Incredibles Costumes for Men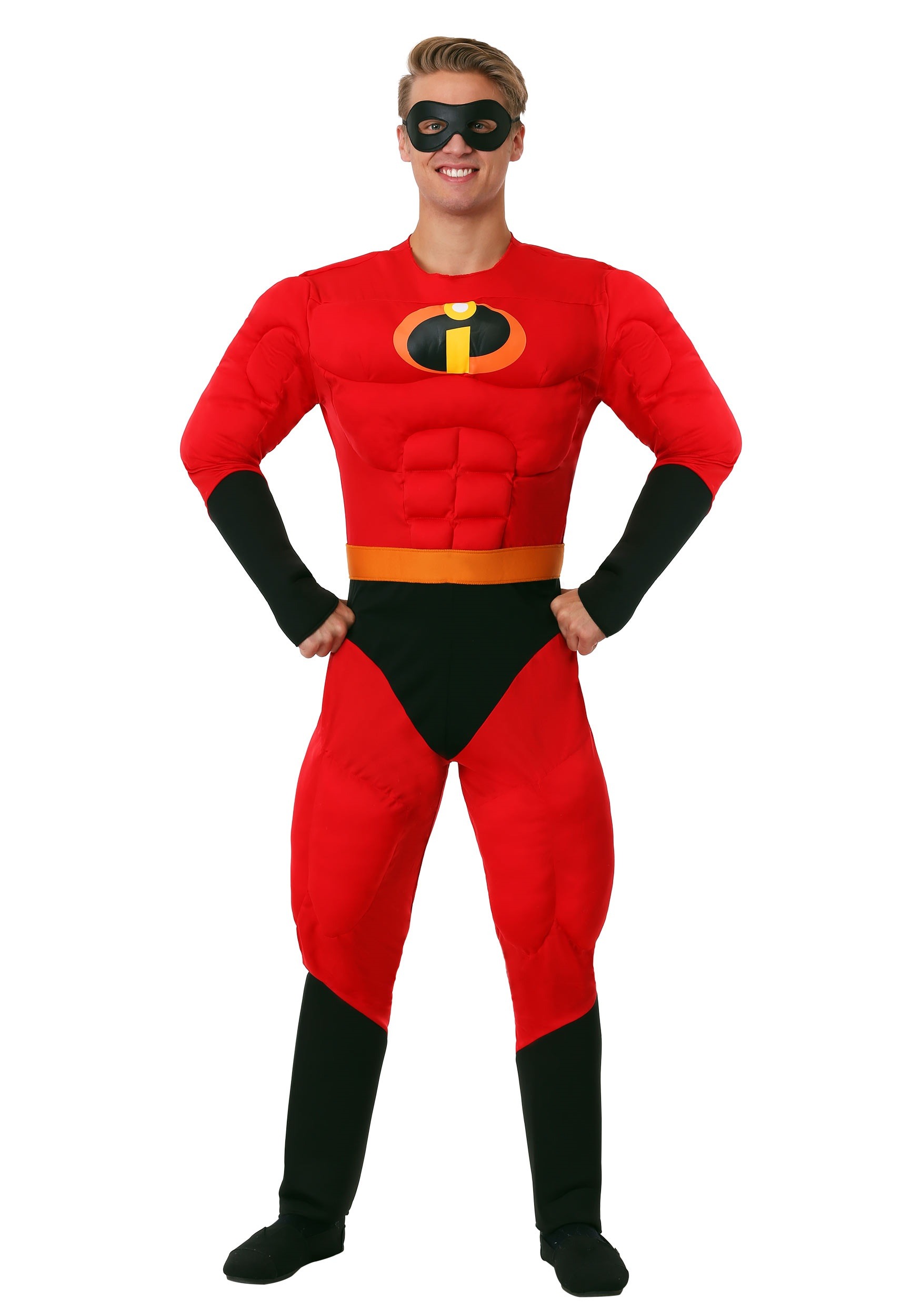 ADULT MR. INCREDIBLE COSTUME

Mr. Incredible had to hang up the heroics due to some silly demand by the civilians and as a result decided to marry Elastigirl, start working at an insurance company, and have some little superhero children.
But just like the saying that you can lead a horse to water but you can't make him drink, you can ban a superhero from his duties and force him into a life of helping people dodge insurance obstacles, but you can't make him stop trying to be a hero. His boss is a big jerk anyway and he's just itching (even sneaking out) to get back into what he really loves. As soon as the opportunity comes he jumps right back into it and drags his family along with for the ride (some are a little more eager than others). Now he's back in full action with his family there to help him! Hopefully this time they won't run into any unintended consequences!
With this Adult Mr. Incredible costume you can continue the legendary heroics of the great Pixar superhero and make it back just in time for dinner with the family and that track meet that Dash has on Saturday. The Mr. Incredible costume comes complete with muscle chest jumpsuit that has a Velcro closure in the back. Don't forget about the black foam eye mask! Who will be the next foe you can take on? Will it be the Underminer? Maybe Syndrome will be back? Oh wait, he had a bit of a cape problem, didn't he? Check out all the Incredibles costumes and pull together an entire superhero family this year and the neighborhood will be safe from all villainy! Always remember, though, NO CAPES!
100% polyester knit fabric and fiberfill stuffing
Red jumpsuit fastens w/ Velcro at center back
Adult Mr. Incredible Costume
Black briefs, wrist & ankle cuffs
Black foam eye mask has clear elastic strap
NOTE: Adult Small is the size same as the Teen XL (14-16)
Officially licensed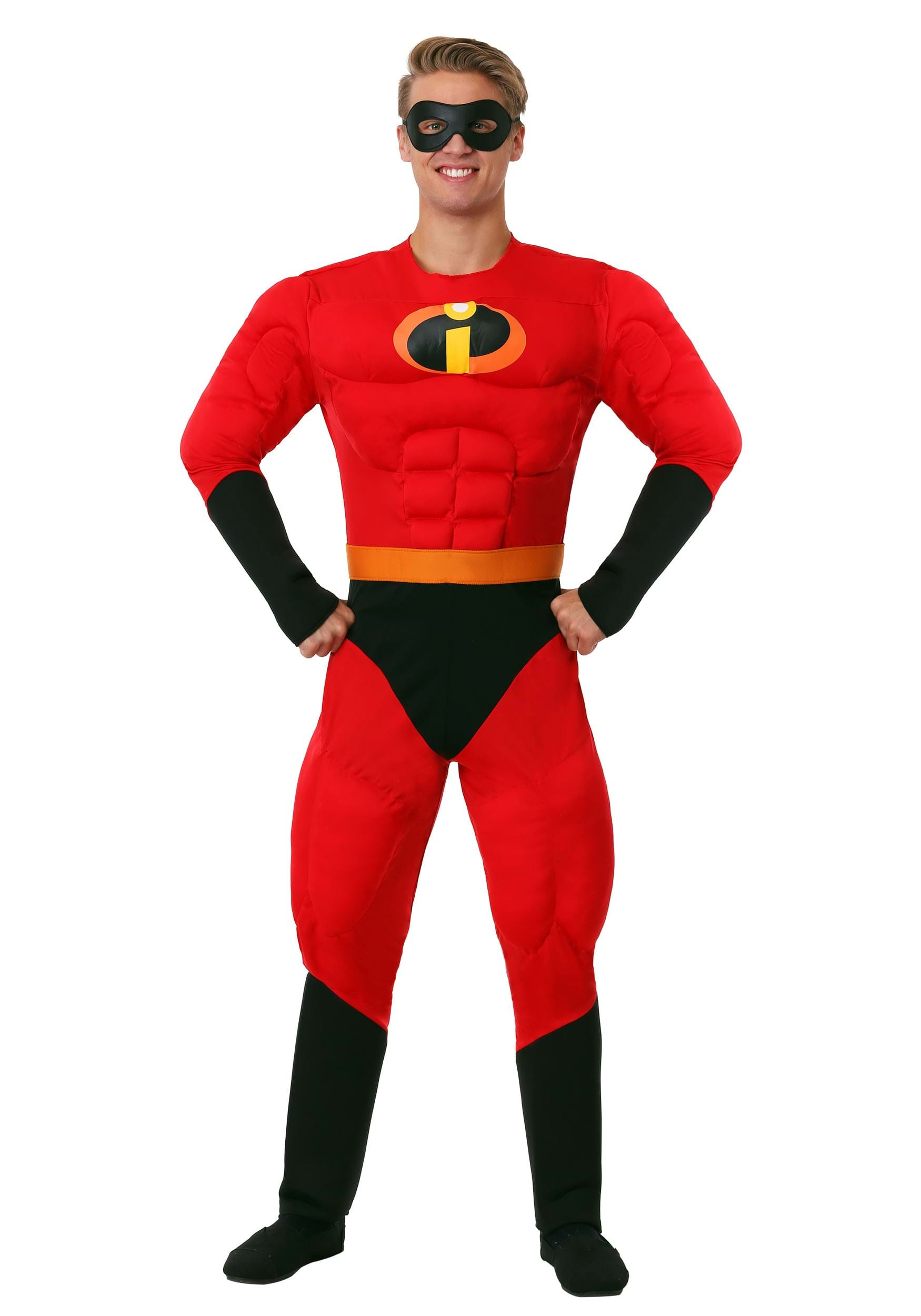 MR. INCREDIBLE DELUXE MUSCLE PLUS SIZE COSTUME

Are you struggling to fit in your family's sedan? Do you inadvertently crush the jar of peanut butter when you try to open it? Do you consider listening to a police scanner a fun Friday night? Do you have a strong urge to chase down criminals? If you suffer from any of these symptoms, you may be Mr. Incredible! Not only does Mr. Incredible rush to save the day wherever there's trouble, but he's also the consummate family man. Whether he needs to make lunches for the kids before school or track down jewelry thieves, he's your man.
Your family will love it when you ask them to join you on an Incredible Family adventure for Halloween or any other special event. Show off your true self when you show up dressed as your alter-ego.
You'll be able to leap into action as Mr. Incredible in this officially licensed, authentic Mr. Incredible costume! If you've always felt like you were born to save the world, then this is the costume for you. The 100% polyester jumpsuit has a fiberfill stuffed muscle chest (not that you need it!) as well as a Velcro closure in the back. The jumpsuit is outfitted with black briefs and writes and ankle cuffs and the black foam eye mask will help you hide your true identity. You can save the day and keep your family safe to boot! Have a great time with this officially licensed Mr. Incredible Deluxe Muscle Plus Size Costume. Add pair of black gloves and boots to go truly incognito this Halloween!
Mr. Incredible Deluxe Muscle Plus Size Costume
100% polyester interlock knit fabric and fiberfill stuffing
Red jumpsuit fastens w/ Velcro at center back
Black briefs, wrist & ankle cuffs
Soft-sculpted fiberfill padding to resemble muscular chest, shoulders & thighs
Black foam eye mask has clear elastic strap
Also available in standard size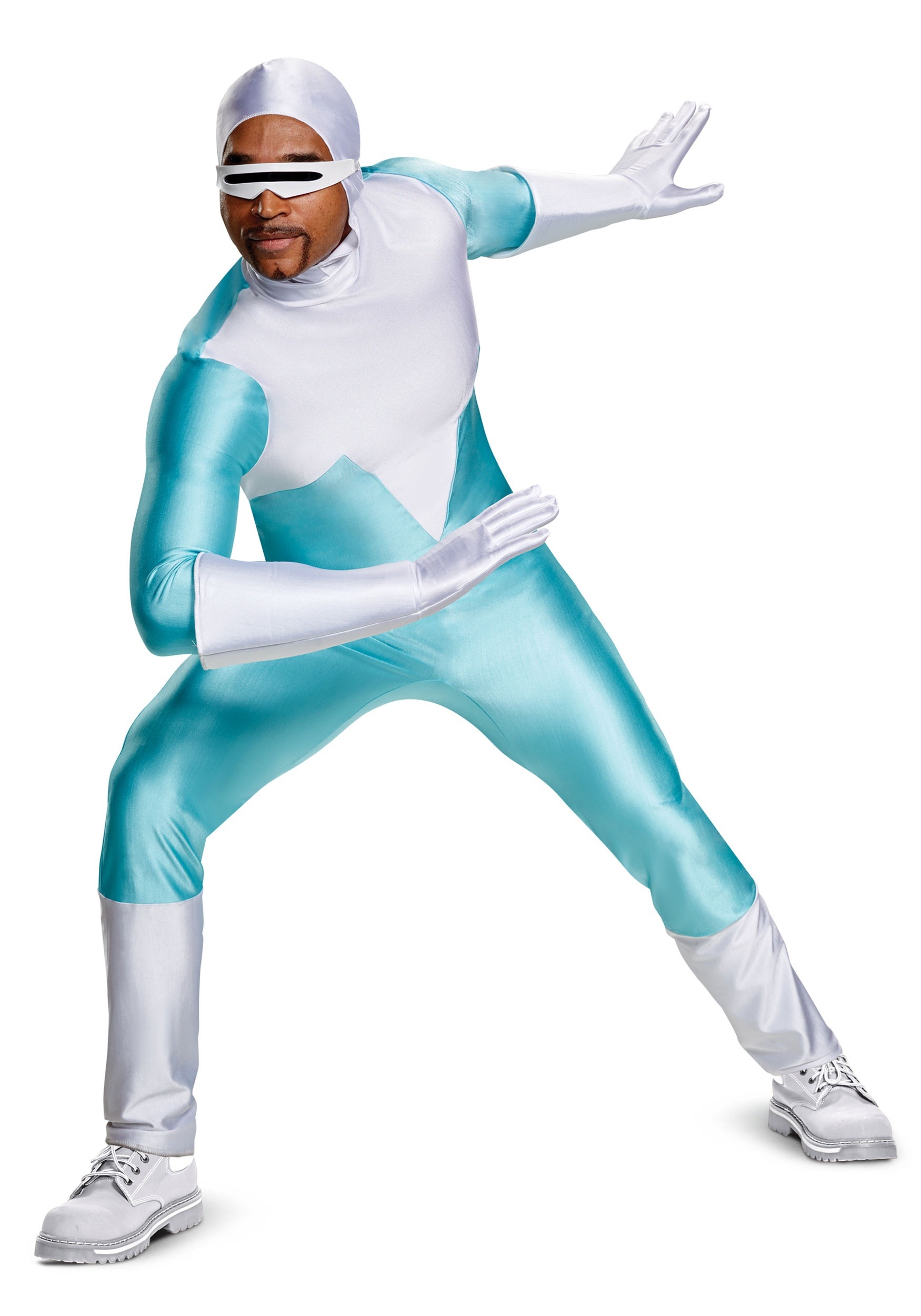 DISNEY INCREDIBLES 2 DELUXE FROZONE MEN'S COSTUME

FROZONE FOR OLYMPIC VICTORY!
Superheroes competing in sports has always been a fairly understandable problem. It's hardly fair to let a super-powered athlete run for the goal if they can race around the world before their ice cream melts and all without even breaking a sweat. And those wrestling competitions are never going to have a different result if your opponent can just turn into a flaming bonfire if you even think about touching him!
But, the best heroes know how to put those powers on the shelf and compete on even terms. If we can't trust our heroes to play by the rules, who can we trust!? So, here's our official plea to the Olympic Foundation to let Frozone compete! Sure, the ability to create ice and skate upon it is a crazy unfair advantage, but look at how long he managed to live without using those powers. We've got total faith.
FUN DETAILS
Show the world that you can do it. Hop into your iconic look and restrain yourself from firing off icy blasts, even if just for one night. This Disney Incredibles 2 Deluxe Frozone Men's Costume is the first step to that gold medal. The icy blue and frosty white jumpsuit has all the designs that we've come to expect of the best bud of Mr. Incredible. Pull that hood up and gloves on and your look will be nearly complete. The final step is the truly cool look of your visor. You'll need it to protect you from the flash of the photographs!
SKATE TO THE GOAL LINE AND CHILL
While it might be tough to keep your superpowers in check for a night, you can at least still look the part of the coolest hero there is with this Incredibles 2 Frozone costume. There's no contest that your icy exterior and warm heart will make for the perfect combo this season, whether you're bringing down the baddies or just looking incredible!
Incredibles 2 Deluxe Men's Frozone Costume
87% polyester, 13% spandex fabric; 100% polyurethane foam
Jumpsuit has hook & loop fastener at center back
Balaclava-style hood has hook & loop fastener strip at back
Foam eye mask has blue clear vinyl visor strip, length-adjustable clear strap
Gloves have wide, flared foam cuffs
Officially licensed
Incredibles Costumes for Women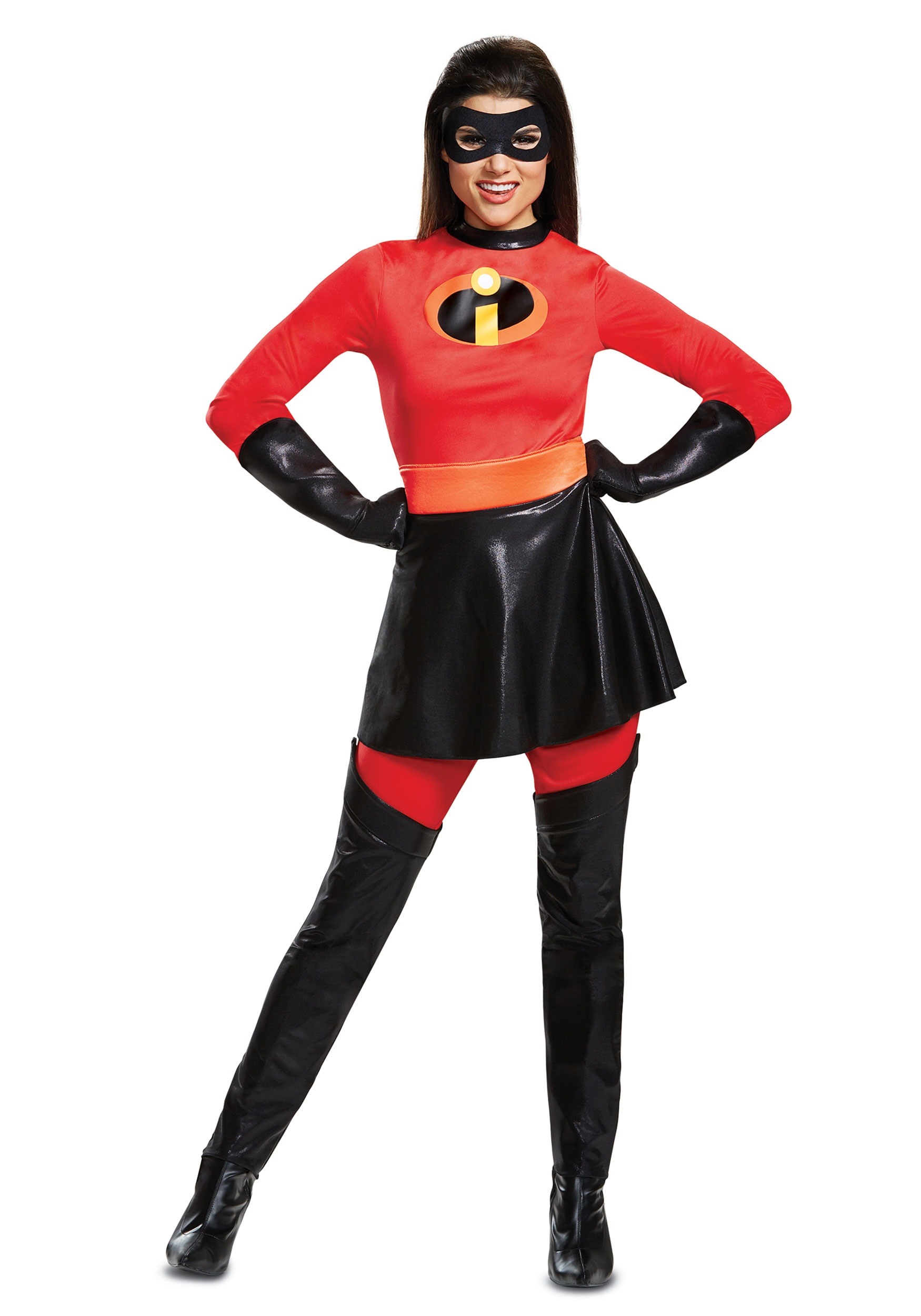 DISNEY INCREDIBLES 2 DELUXE MRS. INCREDIBLE WOMEN'S COSTUME

STRETCHED A LITTLE THIN
She gets a well-balanced meal on the table while her baby is literally erupting into flames and shooting lasers out of his eyes. She can help find her son's hightops by blue tooth speaker as she's speeding along the motorway on a high-powered motorcycle. Between saving the superhero reputation and keeping her family safe despite their insane powers, this mom brings a new meaning to stretching herself thin. We'll just see how it goes when dad takes over for a day or two, should be easy, right? Now that we think about it, does this balancing act sound familiar? If you connect to the bend-over-backward, flexible ways of Elastigirl than you probably wouldn't mind being recognized for your superhero skills every so often. Set a precedent and throw your powers in the spotlight with this instantly recognizable costume!
PRODUCT DETAILS
You'll be ready for whatever the world is going to throw at you when you're wearing this red and black stretchy ensemble. The top has a high neck with the proud Incredibles logo on the front. While the jumpsuit is ready to wear on its own, you can throw on the included skirt so you'll feel comfortable at any event.
FAMILY MATTERS
It can be tricky to find a group costume that the whole family can agree on. Too often someone has to compromise and opt for a less than super night at a costume party. Not so when it comes to dressing the whole crew in Incredibles wear! Everyone can express their very own powers. People outside of the immediate family tagging along? People can go as Frozone or Syndrome. You could even recruit a child to go as the fashionable Edna Mode. All you need is a pair of round glasses, a flapper wig, and a trench coat and you've got yourself a tiny fashion maven. No matter how many people might be in your superhero family, this Halloween will be a night no one will ever forget!
FEATURES
Incredibles 2 Deluxe Adult Mrs. Incredible Costume
jumpsuit and skirt are 85% polyester 15% spandex
Hook and loop fastener on back
Attached shoe covers have elastic band under foot
Skirt attaches to jumpsuit w/ hook and loop fastener
Officially licensed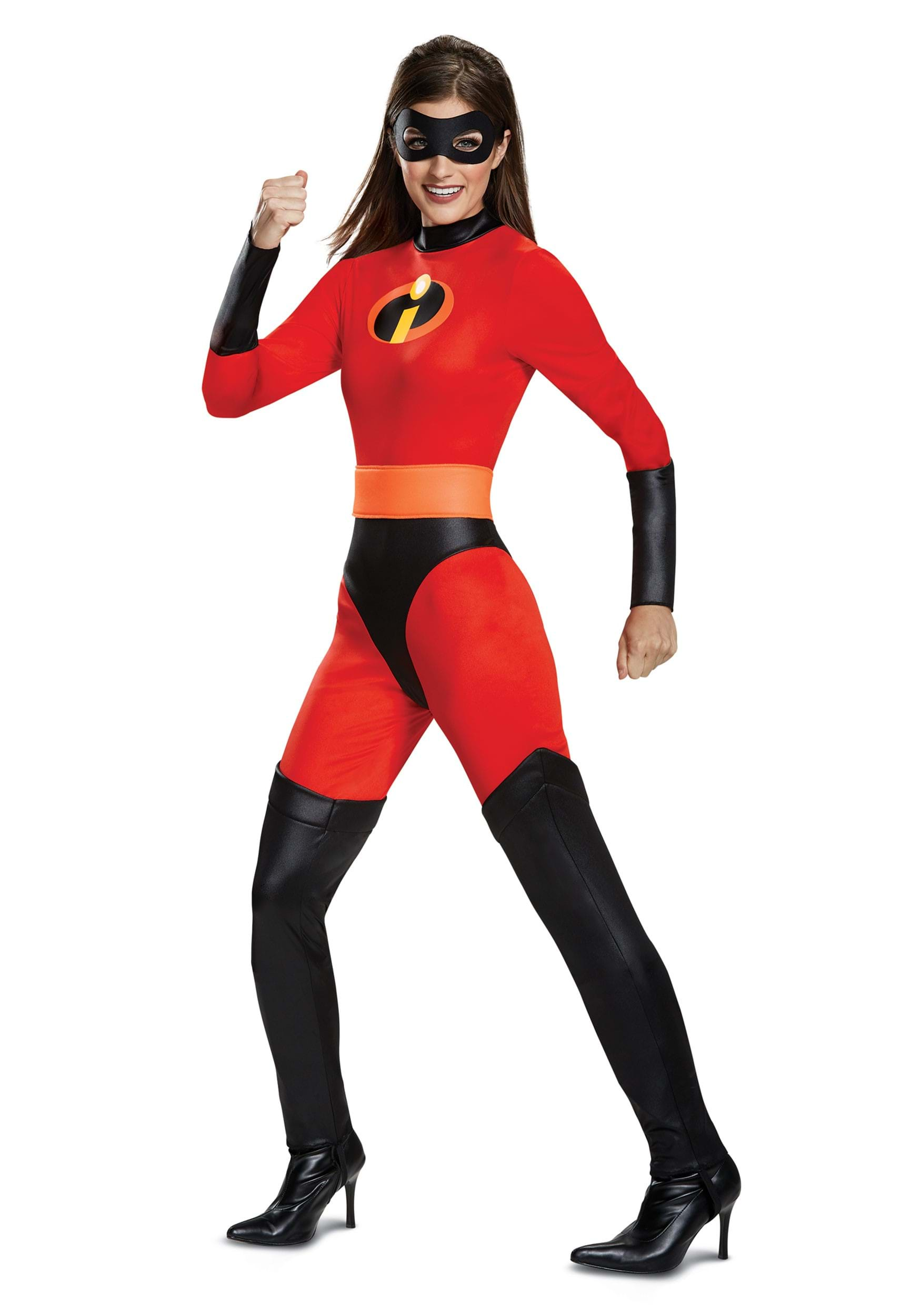 INCREDIBLES 2 CLASSIC MRS. INCREDIBLE WOMEN'S COSTUME

THE SECRET LIFE OF A HERO
It can get really easy to get caught up in the humdrum of normal life. Sure, you might enjoy it. You might love every minute of it, in fact! But, there are always those little, nuanced parts of life that can get overlooked once you've seen too many days go by of the same old thing. Same breakfast. Same goofy grins on your family's faces. Same professional or even at-home, lounging attire. Makes us daydream of different days.
Whether you had an adventurous life before the one you now lead or even if you have yet to set out to show the world what you've got, stretching those legs and your ambitions can be a great thing. (Especially if your other half is going to go get snagged in some kind of deadly trap and needs you to save them!) But, before you reach out to save the day, make sure that you're looking the part.
FUN DETAILS
The best way to make sure that your heroic activities are successful is to gear up in some of Edna Mode's most recent creations. This Incredibles 2 Classic Mrs. Incredible Women's Costume is the sure-fire way to go from gal to Elastigirl. This comfy red and black jumpsuit is the perfect way to look fantastic as you get ready to kick butt. It features all the iconic designs of the matriarch of the Parr family, including the orange belt and the I insignia of the Incredible kin.
STRETCH OUT BEFORE YOU… STRETCH?
Everyone knows that you need to stretch before exercising… but what if stretching out is the heroic workout you'll be doing!? We're baffled on what Elastigirl's pre-adventure prep might be, but we're sure that this Incredibles 2 Mrs. Incredible costume is the perfect fit for whatever that might be!
Women's Incredibles 2 Classic Mrs. Incredible Costume
100% polyester fabric, 100% polyurethane foam
Jumpsuit has hook & loop fastener at center back
Elastic back waistband
Foam belt has hook & loop fastener at back
Foam eye mask has elastic band around back of head
Officially licensed
Jumpsuit legs have elastic stirrups under foot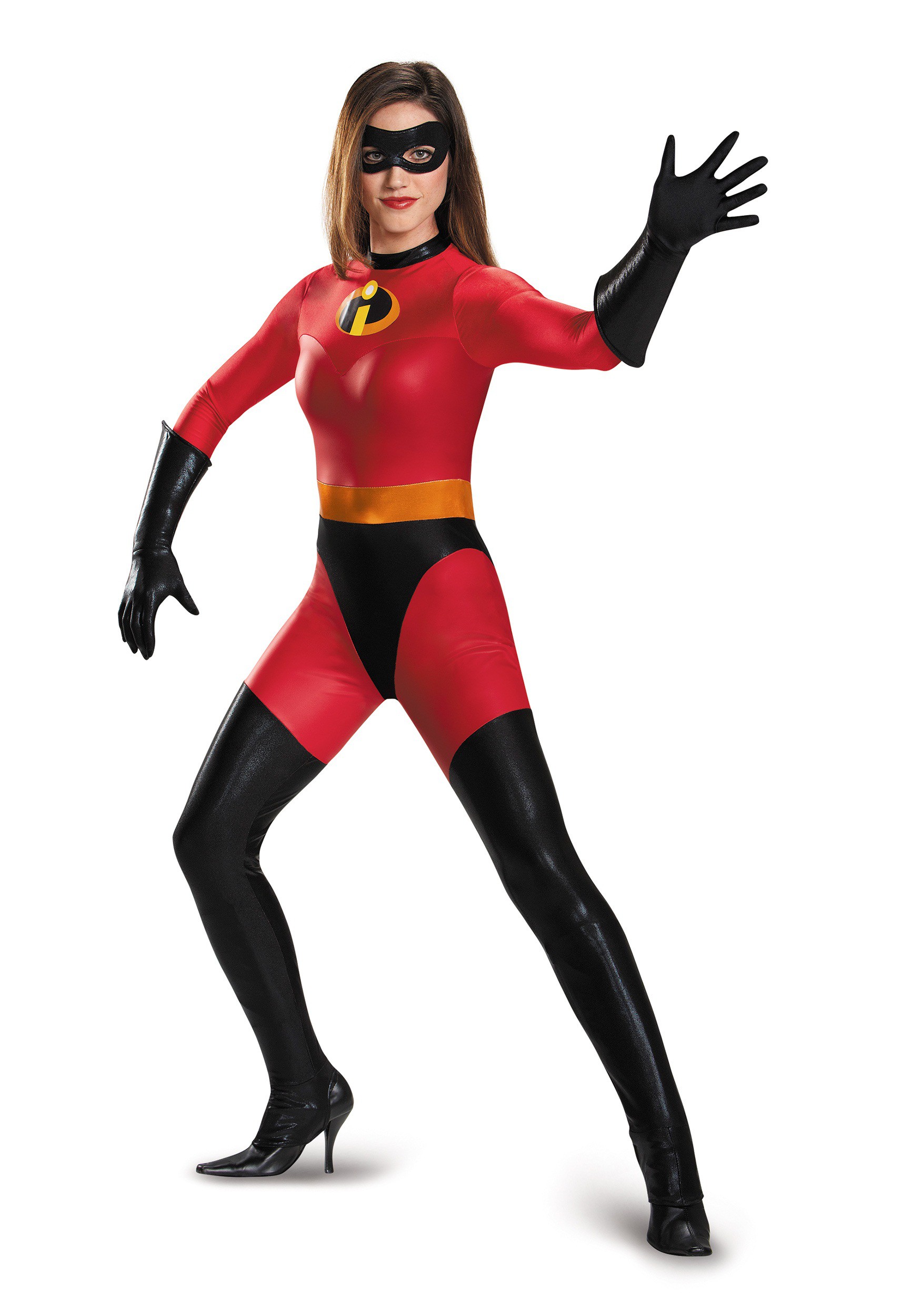 MRS. INCREDIBLE BODYSUIT COSTUME

Let's face it, you don't need a bodysuit to be a superhero; but it certainly makes life more fun.
Most modern day ladies are used to stretching themselves a little thin. Work, family life, volunteering, gluten-free baking,trying to make your apartment look Instagram-ready…it can all be a bit exhausting. But, if you're going to have to stretch yourself, wouldn't be awesome to channel your superpowers (and have a really cute new outfit) in this Mrs. Incredible Bodysuit Costume? This look is just your ticket to a night off from the hustle that leaves you feeling rejuvenated to jump back into your adventurous life! Plus, your friends will finally see you as you really are: essential to their survival. We mean, you can actually turn into a parachute, if necessary, or a rubber boat. That's a metaphor, people.
Or, you may find it more fun this Halloween to use your arms as a slingshot and take aim at all those good-for-nothings who ask you to pick up the extra slack. Regardless of how you choose to spend your first hours with superpowers, you're going to look amazing zipped into this red spandex bodysuit with the Incredibles printed logo on the front. The gloves and character eye mask complete your transformation–but honestly, we can't see that much of a difference. Before you were a rockin' lady with incredible powers and an ability to stretch to fit the needs of your busy life. Now, we see the same thing–but in a cool bodysuit! Good thing you've been making time for all that yoga–it's time to stretch your potential tonight!
Mrs. Incredible Bodysuit Costume
90% polyester/ 10% spandex bodysuit with printed logo
90% polyester/ 10% spandex gloves with foam polyurethane
Jumpsuit features 3/4 sleeves and zipper in back
Character eye mask with elastic band that Velcros on one side
Officially licensed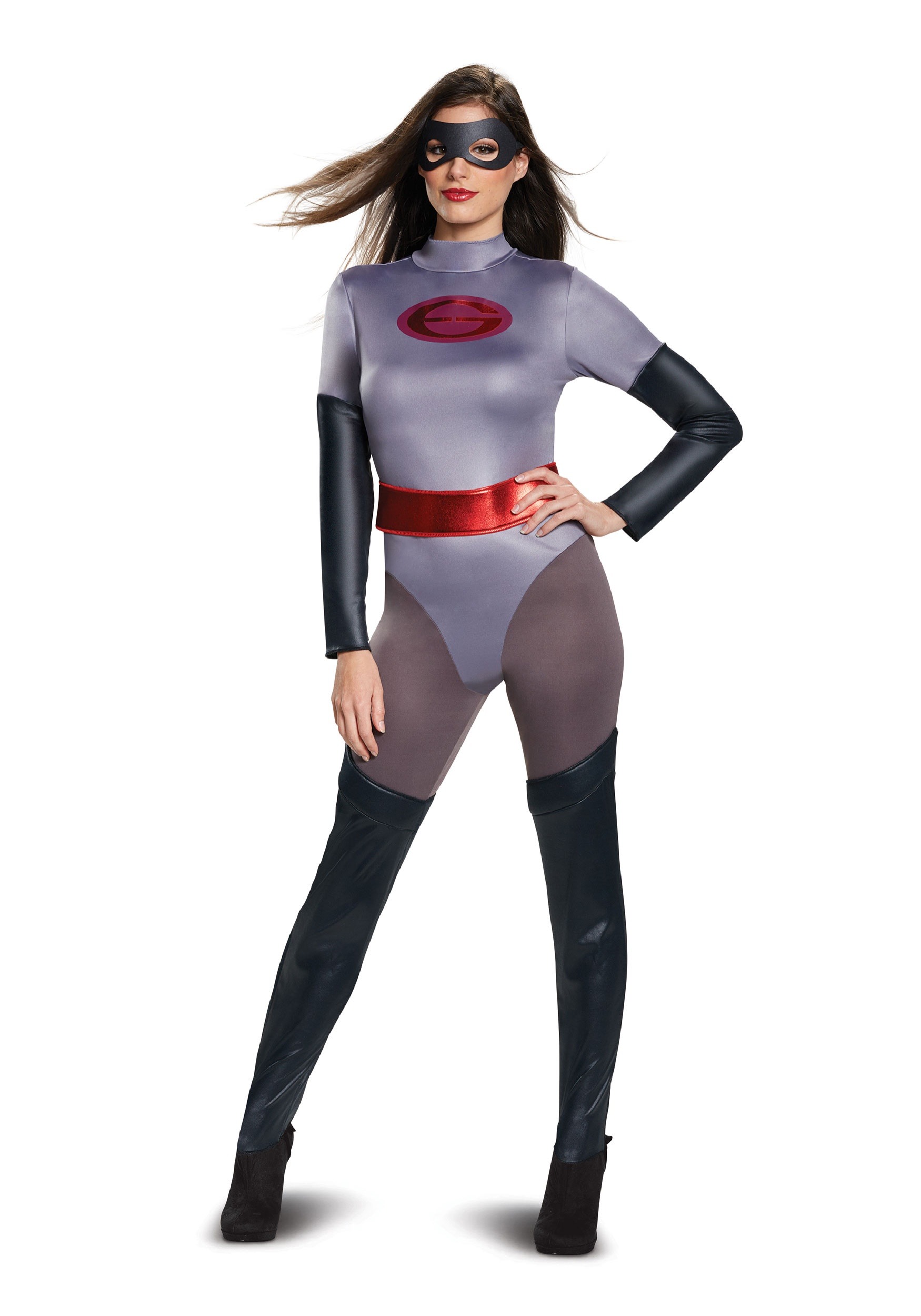 INCREDIBLES 2 WOMEN'S ELASTIGIRL COSTUME

This is an Incredibles 2 Women's Elastigirl Costume
100% polyester fabric, 100% polyurethane foam
Jumpsuit has hook & loop fastener strips at center back
Jumpsuit legs have elastic stirrups under feet
Foam belt has hook & loop fastener at back
Faux leather eye mask has elastic band around back of head
Officially licensed
Incredibles Costume for Tweens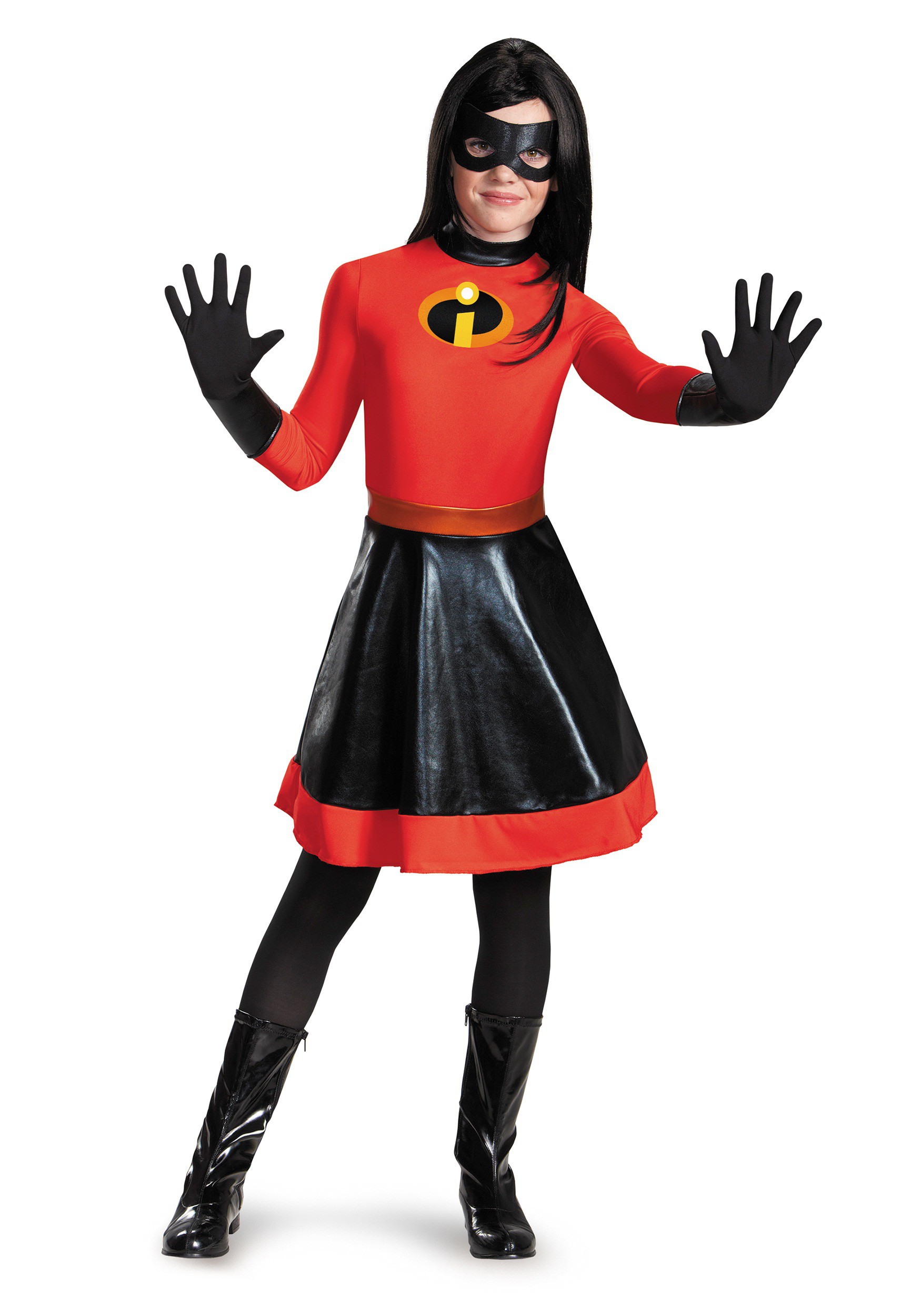 TWEEN INCREDIBLES VIOLET COSTUME

Violet has a tough life. It isn't enough that she has to be different from everyone, having bizarro super powers that no one can know about. No, she also has to deal with two pesky little brothers on top of that! If it's not Dash speeding through her room when he thinks she's not there, then it's Jack-Jack, who can pretty much turn into a little tornado of death whenever he likes. And then there's her parents. How on earth do you tell anyone about them? It's hard enough that you have to live up to the pressure of being the daughter of Mr. Incredible and Elastigirl. But bringing a boy home to meet them? It's unthinkable.
Ugh, boys! Why are boys so difficult and so hard to understand? It's no wonder Violet turns invisible, because sometimes she already feels invisible. Pretty meta, right? Yeah, that was kind of the point. But Violet doesn't need to worry about that anymore (and neither do you!). Now that she's found out how great her powers are, she doesn't need to worry about hiding. She can be proud of who she is and what she can do. And you should be too. Sure, her family is still a little bit… weird, and little brothers are always going to be pests sometimes, but as for Violet, she's a smart, capable girl who can do the right thing when the pressure's on. Maybe you can't turn invisible, but you've got your own hidden powers. So suit up as Violet and show people what you're made of, Invisigirl!
Incredibles Costume for Kids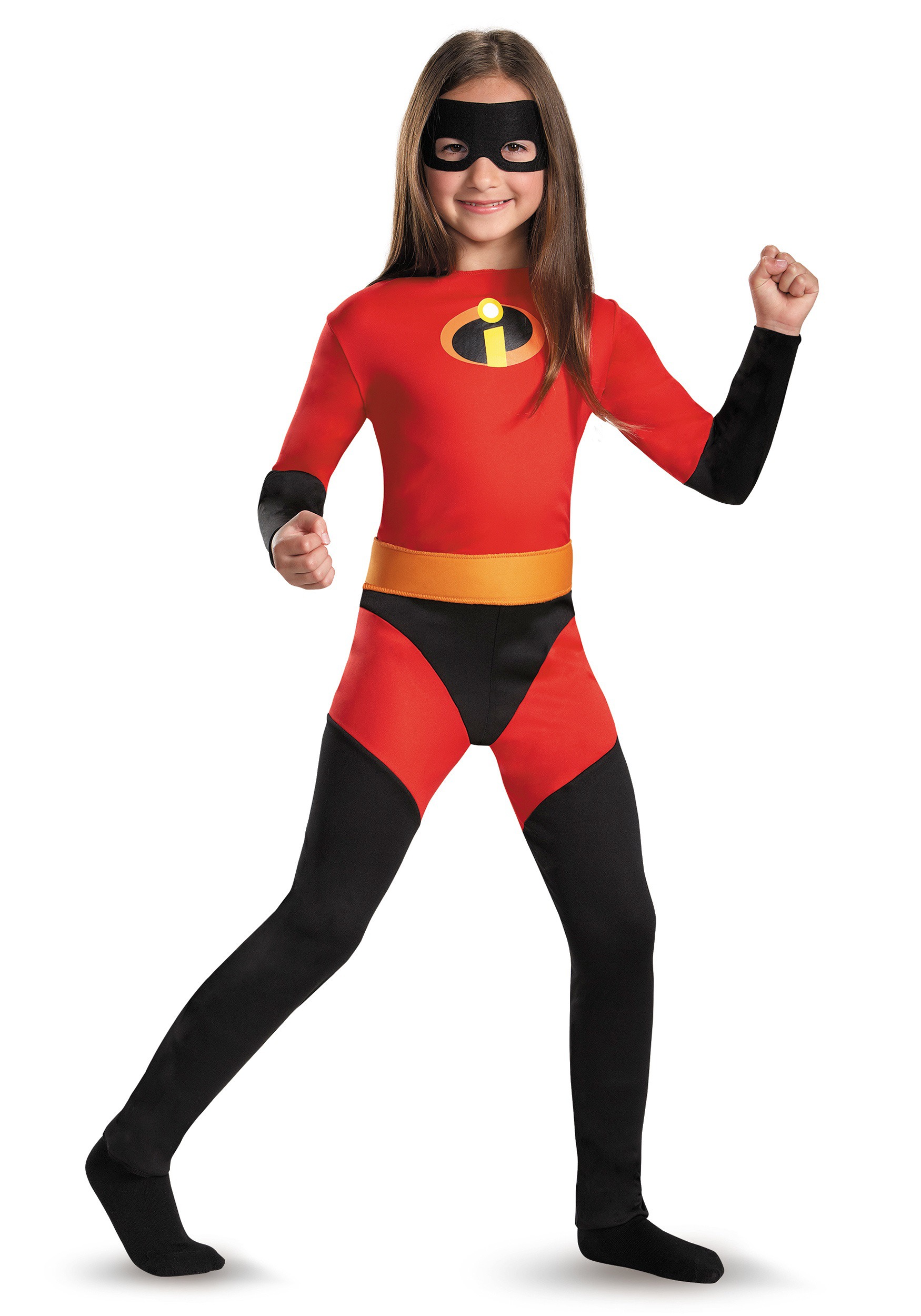 KIDS VIOLET INCREDIBLES COSTUME

What's the coolest super power you could possibly have? Well, that's a trick question, since you couldn't possibly have any super powers (unless you know something we don't…), but we'd bet if your little super-gal actually could have super powers, she'd want to dress up in this awesome Violet Incredible Costume while she used them!
In Disney's smash hit superhero movie The Incredibles, Violet has to balance life as a teenager in high school with having the power to turn invisible and being a member of a superhero family. You don't need super-human intelligence to know that's no easy task! But, whenever Violet's family springs into action to save the world from an evil plot, she is right there with them! Her powers help her sneak around invisibly, but they can also create force fields that let her float around, and even be launched like a cannonball when her younger brother, Dash, runs into her with his super-speed powers! And who says super-siblings can't work together to thwart henchmen from destroying the world?!
Violet never goes on a mission without her high tech super-suit, and since this costume is officially licensed, your little girl will have the right gear, too! This synthetic jumpsuit is printed to look just like the suits in the movie, and even includes a matching eye mask. Add a pair of black superhero gloves and boots to complete this look, and have the rest of the family dress up as The Incredibles for a super-family Halloween costume that's way more fun than having real powers!
Eye mask
Jumpsuit
FEATURES
100% polyester interlock knit fabric
Jumpsuit fastens with Velcro at center back
Styled as black briefs over red unitard
Black felt eye mask has clear elastic strap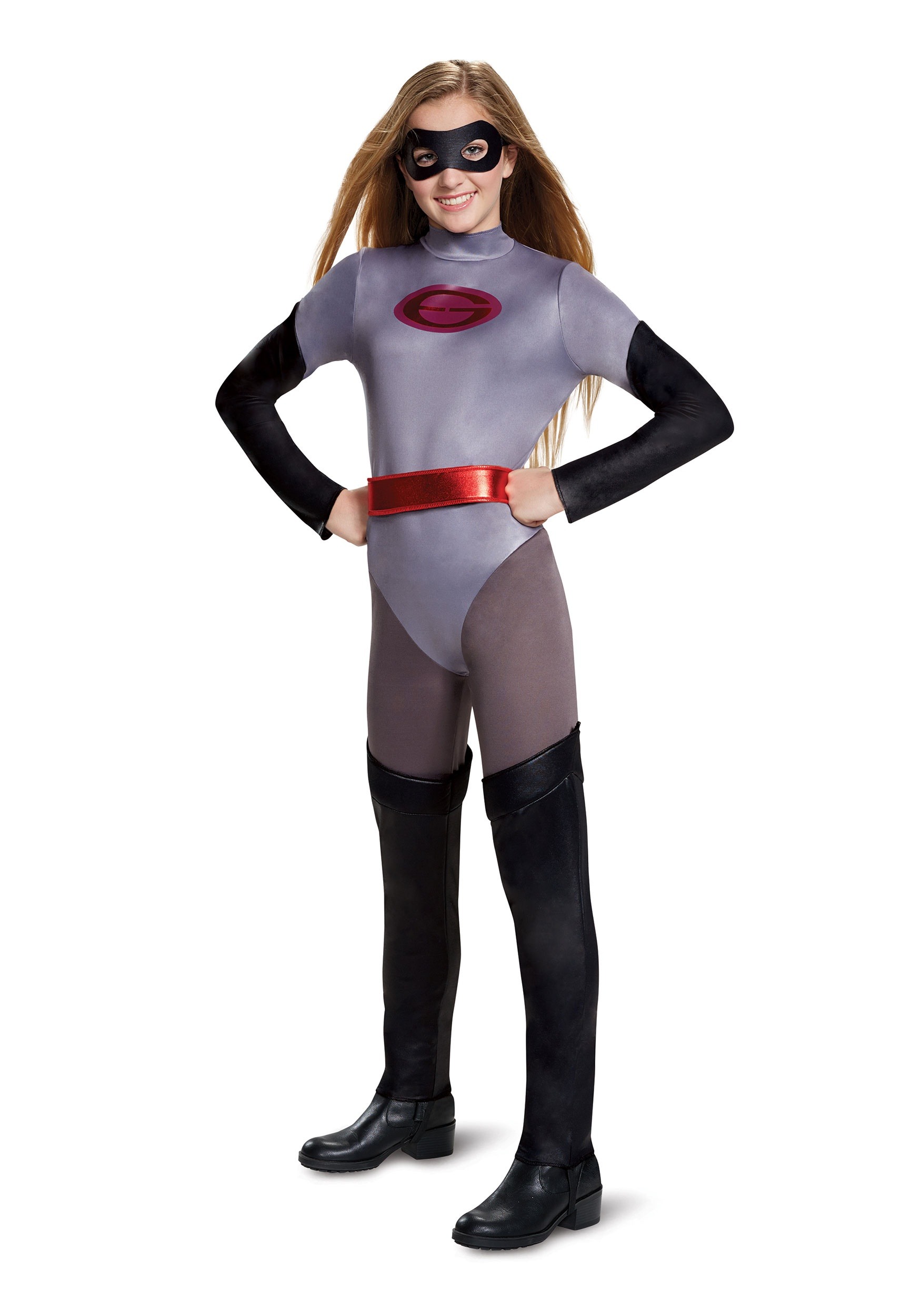 INCREDIBLES 2 CLASSIC GIRL'S ELASTIGIRL COSTUME

This is an Incredibles 2 Classic Child Elastigirl Costume.
100% polyester fabric, 100% polyurethane foam
Jumpsuit has hook & loop fastener strips at center back
Jumpsuit legs have elastic stirrups under feet
Foam belt has hook & loop fastener at back
Faux leather eye mask has elastic band around back of head
Officially licensed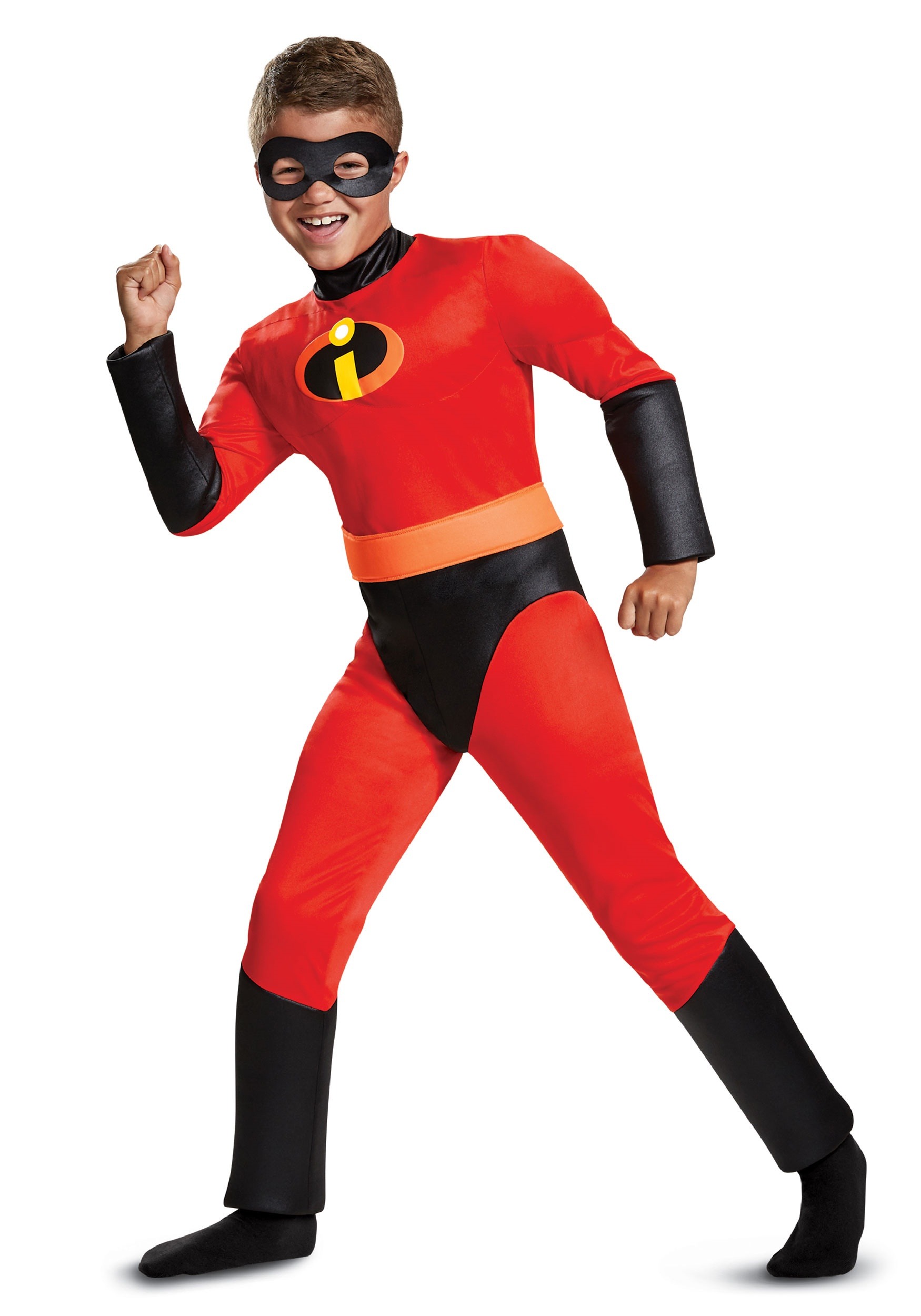 DISNEY INCREDIBLES 2 CLASSIC DASH MUSCLE BOYS COSTUME

IT RUNS IN THE FAMILY
Can you imagine what raising a handful of superhero kids would be like? We imagine you'd have to have elastic arms and super strength to keep your sanity and your children intact we have to believe it would be pretty fun as well. When it came to calls from the principal you'd never know what kind of situation you were going to run into. And while it might not seem fair, it would be pretty fun to see what your child could do when it came to sports. There would be plenty of trouble and plenty of mess. But, just like your normal life, family life would certainly stay interesting. If you're looking to see what it would be like to have a little master of speed in your house, let your little one throw on Dash's uniform and see how fast he can go!
PRODUCT DETAILS
This jumpsuit looks like it's straight from The Incredibles. Your child will feel like he's ready to run in this red and black jumpsuit. The suit is one piece with black gauntlets and boot covers attached. The chest has muscle padding that will make your kiddo feel super. Emblazoned with the Incredibles logo on the chest, everyone will know what family you kiddo stands for.
GOOD DEEDS WITH A TOUCH OF MISCHIEF
We mentioned Dash's naughty nature in the first paragraph but Dash has a major interest in doing good as well! Dash has a big heart. He's there for his family, especially for that baby brother of his who proves to be such a handful. And he's there for the little old lady on the street. His talents aren't only his own, those fast little pistons belong to the community that needs him. Now, if only those officials would de-criminalize being a super!
Incredibles 2 Classic Boys Dash Muscle Costume
Soft-sculpted fiberfill padding in chest and shoulders gives muscular look
Jumpsuit has hook & loop fastener strips at center back
Mask has an elastic band attached
officially licensed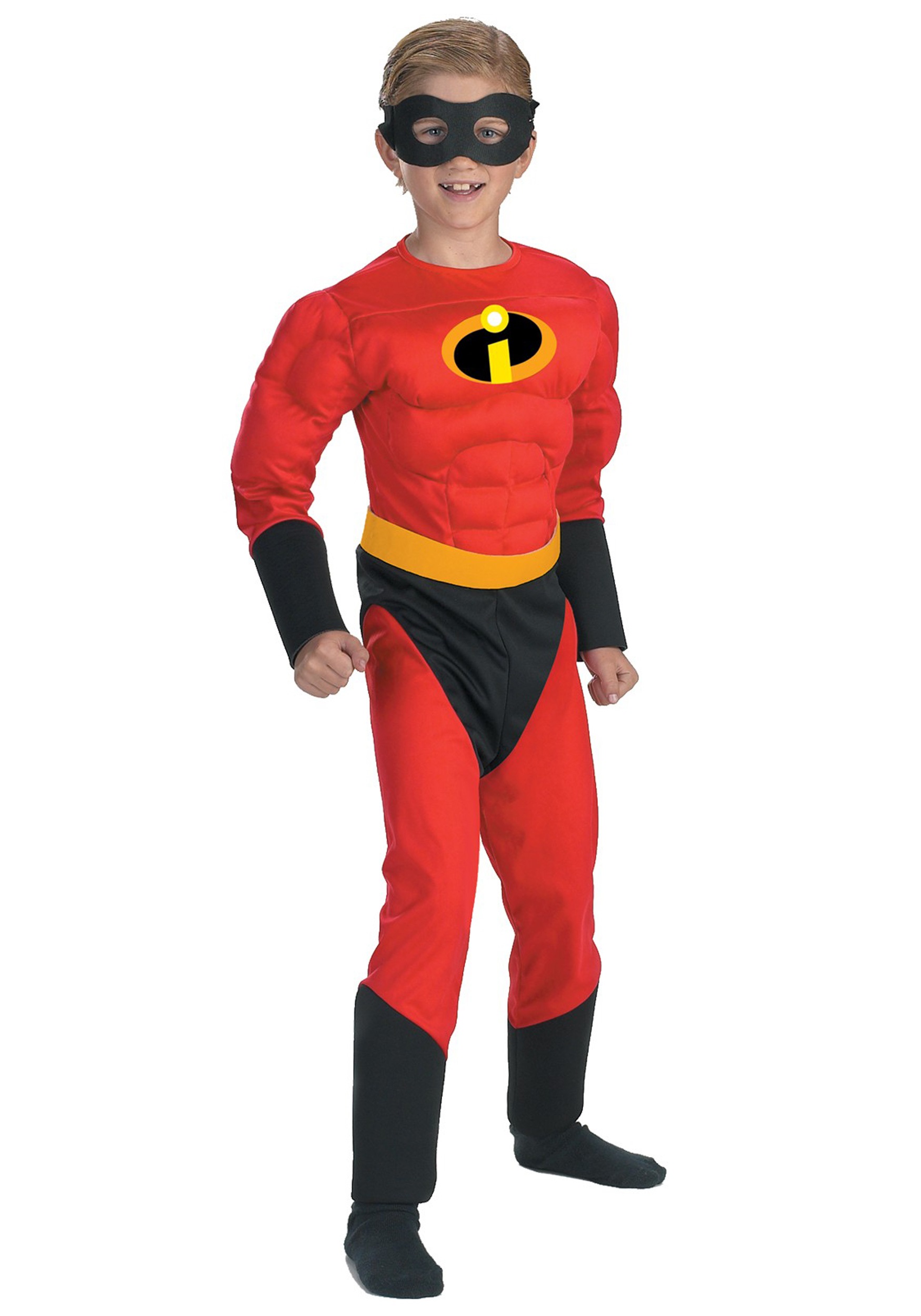 KIDS INCREDIBLES DASH COSTUME

Every kid dreams of being a superhero. But Dash from the Incredibles family – he actually got to be a superhero as a kid! His incredible speed and witty personality make him one of the most memorable and lovable characters from the Incredibles movie. Being a superhero isn't all it's cracked up to be though, as we learned from Dash throughout the film. While he was faster than anyone on Earth, he couldn't show off his talents to anyone except his parents, and even they chided him for using his superpower to do chores around the house or avoid punishment. But all-in-all, being a superhero ended up being a blessing for little Dash and his family.
This Kids Incredibles Dash Costume will have you feeling like the hyperactive speedster himself, able to run fast enough to generate heat! Stow away along with your sister to the island of Nomanisan and help defeat Syndrome and his Omnidroids.
Your little one will be able to mimic their favorite pint-sized superhero this Halloween with our Dash costume. It comes with everything your child needs to mask their true identity and gain super-human speed. The red jumpsuit has a padded muscle chest to accentuate your child's already formidable muscle mass and it has the signature "i" printed on the front. The jumpsuit Velcros in the back for easy on and off and the included black foam eye mask has a back Velcro closure. Add superhero gloves and boots to become the fastest kid on earth this Halloween!
100% polyester interlock knit and fiberfill stuffing
Red jumpsuit fastens w/ Velcro at center back
Chest & shoulders have soft-sculpted "muscles"
Black foam eye mask has elastic band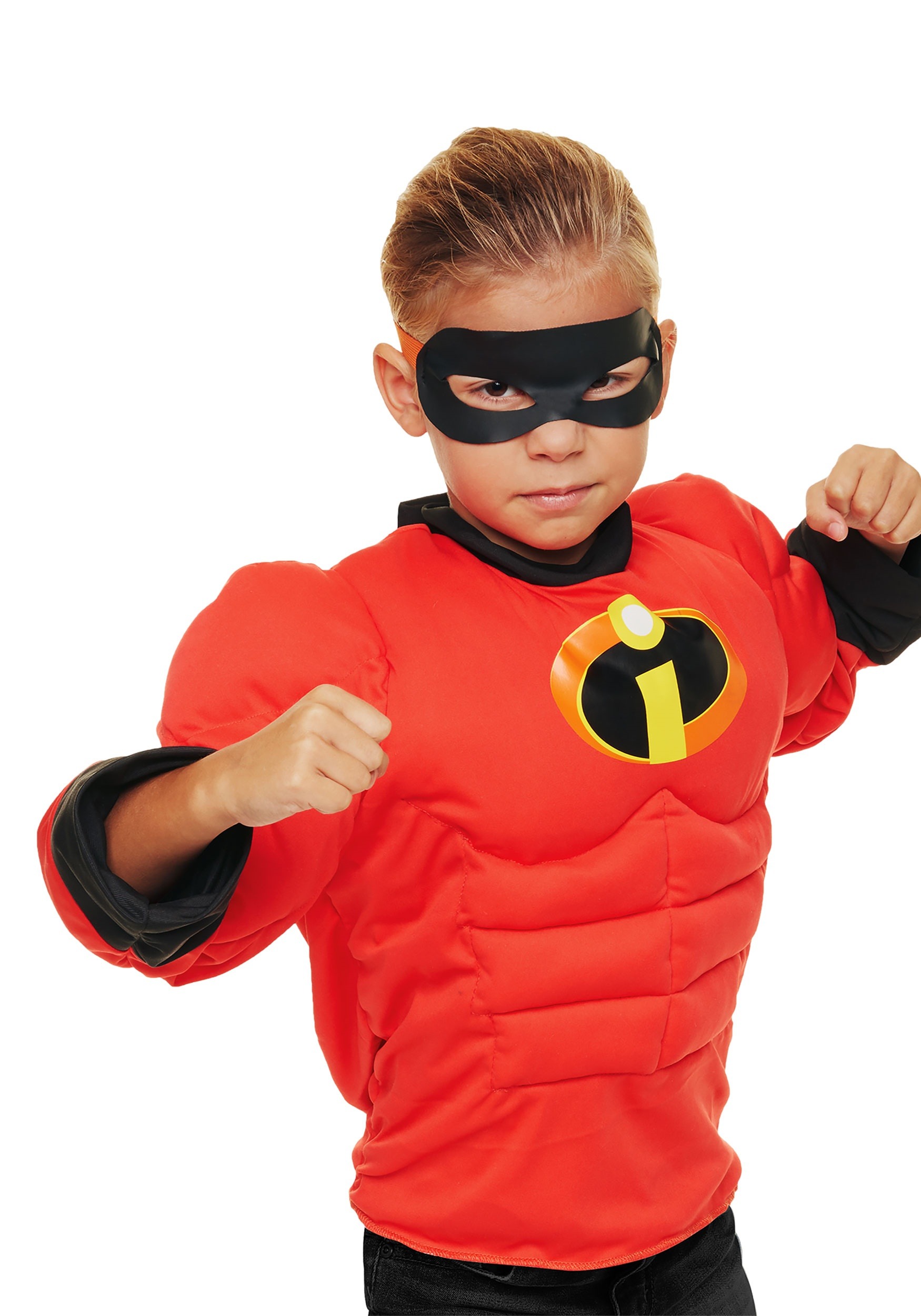 INCREDIBLES 2 DELUXE CHILD DRESS UP SET

This is an Incredibles 2 Deluxe Dress Up Set. Kids Deluxe Dress Up Incredibles 2
1 muscle suit with sounds
1 mask
Flex or raise arms to activate sounds
Punch to activate sound
Soft-sculpted fiberfill padding in chest and shoulders gives muscular look
Hook and loop fastener at the back
Battery pack fits in a pocket on the backside of the shirt
Requires 3 AAA batteries (demo batteries included)
100% polyester shirt
mask faux leather
Officially licensed
Incredibles Costumes for Toddlers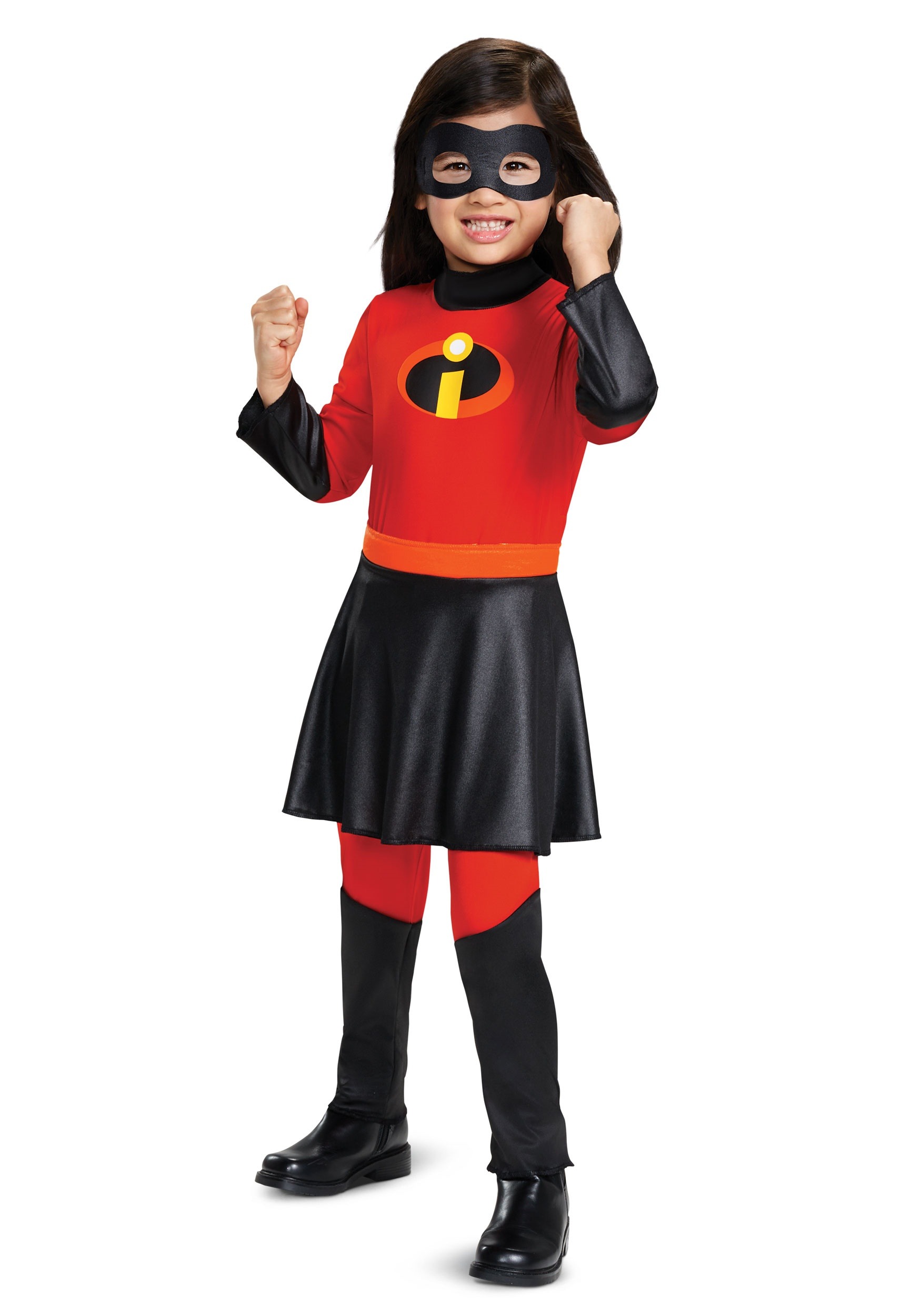 DISNEY INCREDIBLES 2 DELUXE VIOLET TODDLER JUMPSUIT

FIGHTING THE GOOD FIGHT
Whether you know it or not, your little one has superpowers. Maybe it's the ability to find snacks when you didn't even know there were snacks. Maybe she seems to be able to talk to animals, she can summon any doggo from the park and knows exactly what they want from playing fetch to scratching those pups behind the ears. Oh, and let's not forget the charm factor. That's a superpower, right? Whatever her superpower might be, she'll love channeling Violet's powers from The Incredibles. And lucky for you, she won't actually be able to use her powers of invisibility to tease her little brother. Bet you never thought you'd be happy to get stuck with the "I'm not touching you" argument, eh?
PRODUCT DETAILS
This licensed costume is super adorable with a one-piece jumpsuit and a sassy black skirt. She'll feel comfortable kicking and running with the skirt that's loose enough to move in. The top has the instantly recognizable Incredibles logo. Top the whole thing off with a black mask and she'll be ready to get in touch with her powers.
BETTER TOGETHER
This Halloween, team up with the whole family to make those villains head for the hills. We've got all the Incredibles costumes from little baby Jack-Jack to the burly Mr. Incredible. Want more people to join the fun? Invite Frozone and Syndrome to the club. Things should get interesting. Now, Violet is no perfect child. She's got a temper when her little brother speeds around, pushing her buttons. She even tried to throw her uniform down the garbage disposal. But we all have seen that side in our kids. And hey, even though the family is usually what drives her crazy, it's also who she fights for. And that's what makes this family incredible!
Disney Incredibles 2 Deluxe Toddler Violet Jumpsuit
Jumpsuit has Incredibles logo
Removeable skirt with hook and loop fasteners
Eye mask has elastic band
Officially licensed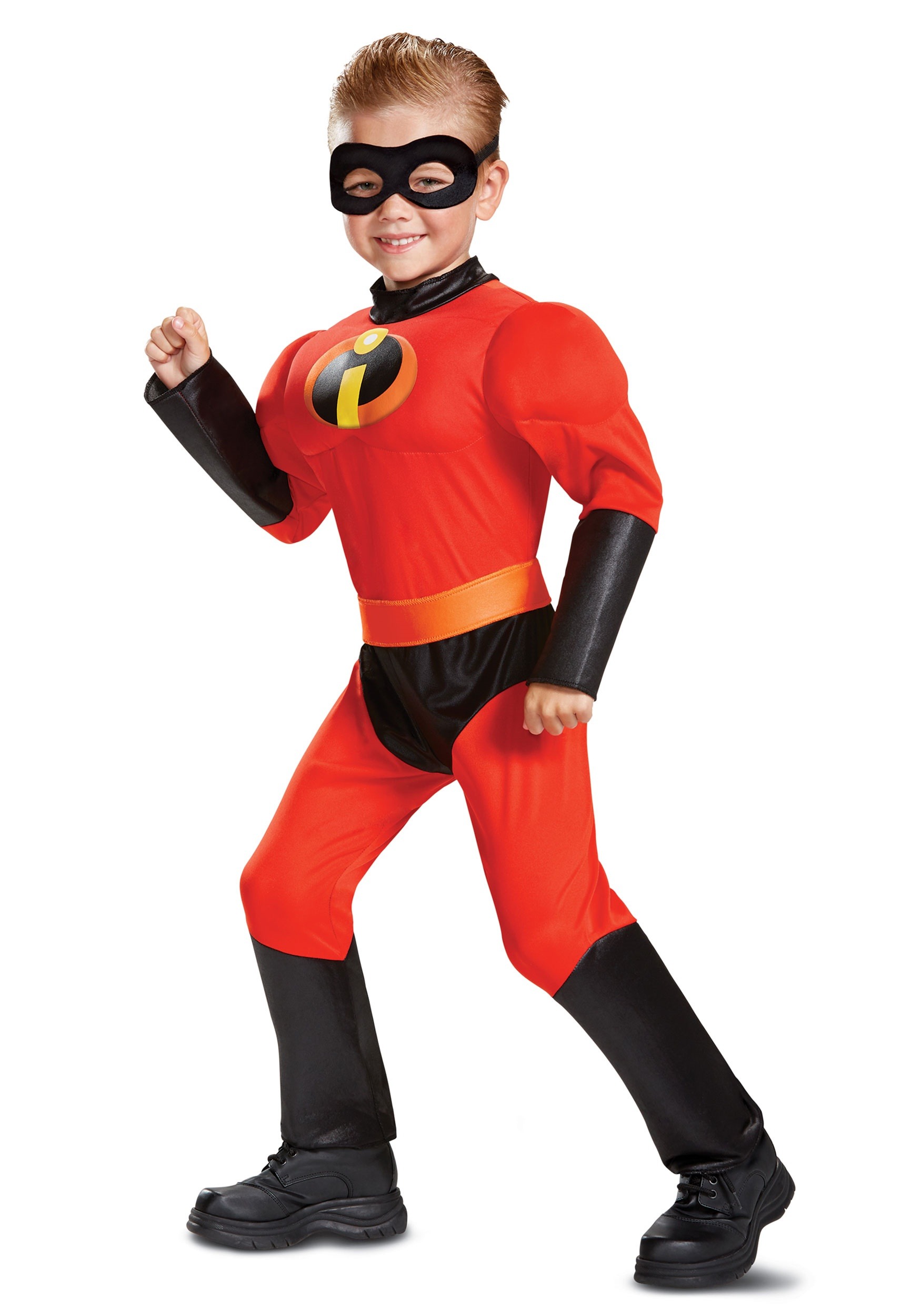 DISNEY INCREDIBLES 2 CLASSIC DASH MUSCLE TODDLER COSTUME

IT WAS JUST A LITTLE ACCIDENT!
So, your kiddo was in the other room and suddenly there was a moment of silence. Your super-parent ears picked up the danger immediately. A quiet kid means disaster. But, no matter how fast your legs can carry you, a tyke's trouble is always going to be just a hint faster. Was it a crash that came after? Perhaps the blinking of lights before the house lost power? Maybe some kind of haunting moaning that filled the house and you with dread?
Either way, accidents happen. Fortunately, nobody got hurt. But, who could possibly predict the crazy superpowers that your kiddo would develop after those mysterious moments. Heck, it'll be a decade before they'll even admit what they were up to that caused the whole room to look that way after you go there! But, the point is that now you've got a superpowered speedster in the house and you're going to need to adapt to those changes.
FUN DETAILS
Of course, we can help. With our in-house Edna Mode, we're ready to assist with all your supertyke needs. This Disney Incredibles 2 Classic Dash Muscle Toddler Costume is just the thing to support your kid's newfound strength and speed while maintaining peak fashion sense. This iconic red and black jumpsuit features the Incredibles insignia on the chest and a keen eye mask to protect your wonderkid's identity. All you need now is the rest of the family gear and the villains better beware!
DASH TO A BRAND NEW LOOK
Kids grow at a rate that can only be explained by superpowered physics. That also probably explains the collateral damage toddlers can create! If you're finding that your tyke seems to be breaking the sound barrier, perhaps this Incredibles 2 Dash Muscle Costume is just the thing to help your little one keep their newfound powers in check. Disney Incredibles 2 Classic Toddler Dash Muscle Costume
100% polyester fabric & fiberfill, 100% polyurethane foam
Jumpsuit has hook & loop fastener at center back
Soft-sculpted fiberfill padding in chest and shoulders gives muscular look
Printed Incredibles logo on front
Foam sleeve cuffs & pants cuffs
Foam belt has hook & loop fastener at back
Eye mask has elastic band around back of head
Officially licensed
Incredibles Costumes for Baby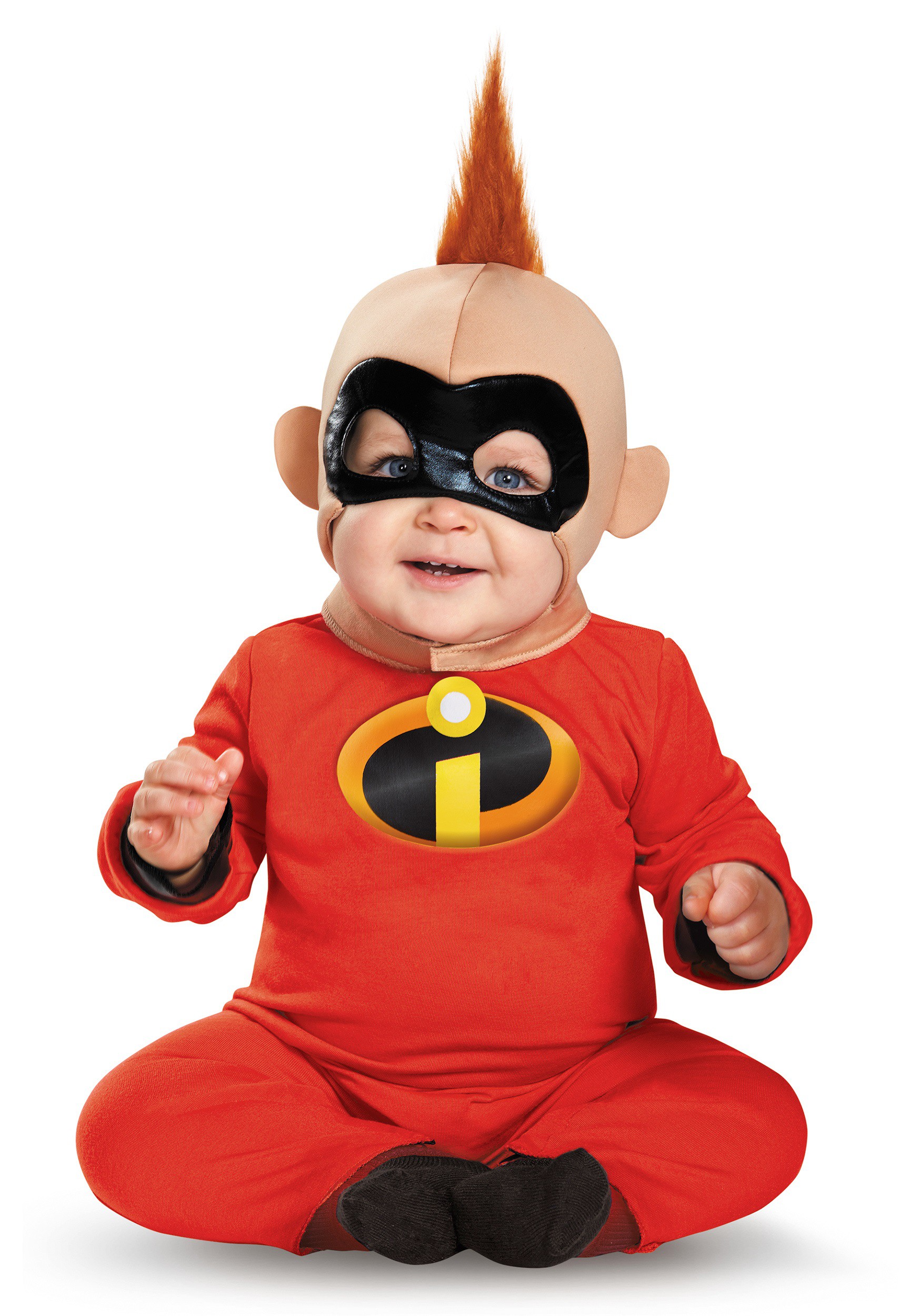 BABY JACK JACK DELUXE INFANT COSTUME

Every parent knows the feeling of looking at their newborn babe and believing with unshakable conviction that they are capable of anything. They have talents that put them above the ranking charts of any other babe, maybe taking their first steps a little ahead of schedule or muttering clearer words than other tykes their age. Flaring up their eye lasers well before Jimmy-down-the-street could even start using his thumbs opposably!
Wait… your tyke isn't peering out laser vision? Well, there's no reason to be alarmed. Every baby develops different powers and perhaps shooting fire out of their eyes isn't the most ideal power for a little kiddo to be having, anyway. There are plenty of other possibilities that might be far more fitting. Flight? Super-strength? Shapeshifting? Invisibility? Ultra-powerful teeth? Hrmm. Now that we compose a short list of them, a baby having any of these powers while still in the middle of development might make for some pretty intimidating early years. But, we know that you'll love your child no matter what!
So, you might as well get used to the incredible infant that you've got with this Baby Jack-Jack Deluxe Infant costume. The polyester fabric jumpsuit fastens with Velcro at the back of the neck and snaps at the crotch and inseams for easy wear and changing. The bright orange fabric shines with the Incredibles logo on the chest and the foam hood fastens under the chin while giving an adorable tuft of faux fur hair. Whether your babe develops laser vision, demonic shape changing, flight, strength, or all the above, your kiddo will look the part and be ready to show off all the development milestones in no time.
100% polyester fabric
100% polyurethane foam; 64% polyester, 36% acrylic faux fur
Jumpsuit fastens with hook & loop at back of neck
Snaps along crotch & inseams
Incredibles logo printed on front of jumpsuit
Foam hood has tuft of faux fur hair on top
Hood fastens under chin with hook & loop
Officially licensed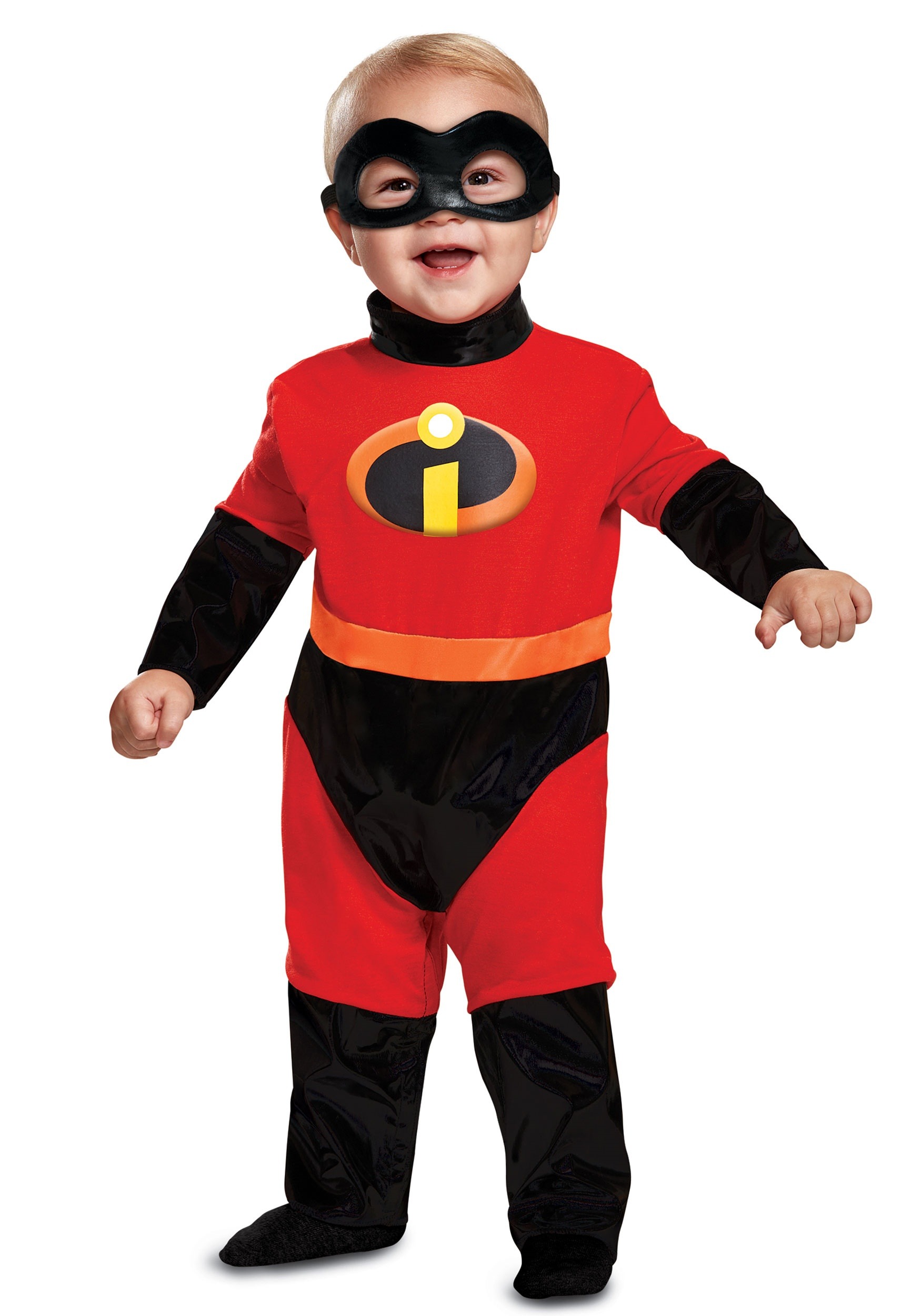 DISNEY INCREDIBLES 2 CLASSIC BABY COSTUME

This is a Disney Incredibles 2 Classic Baby Costume. Incredibles 2 Classic Infant Costume
Print image of Incredibles logo on jumpsuit
Hook & loop fastener at crotch & inseams for easy diaper access
Hook and loop fastener on back of jumpsuit
Mask has elastic band
Ages 6-12 months
officially licensed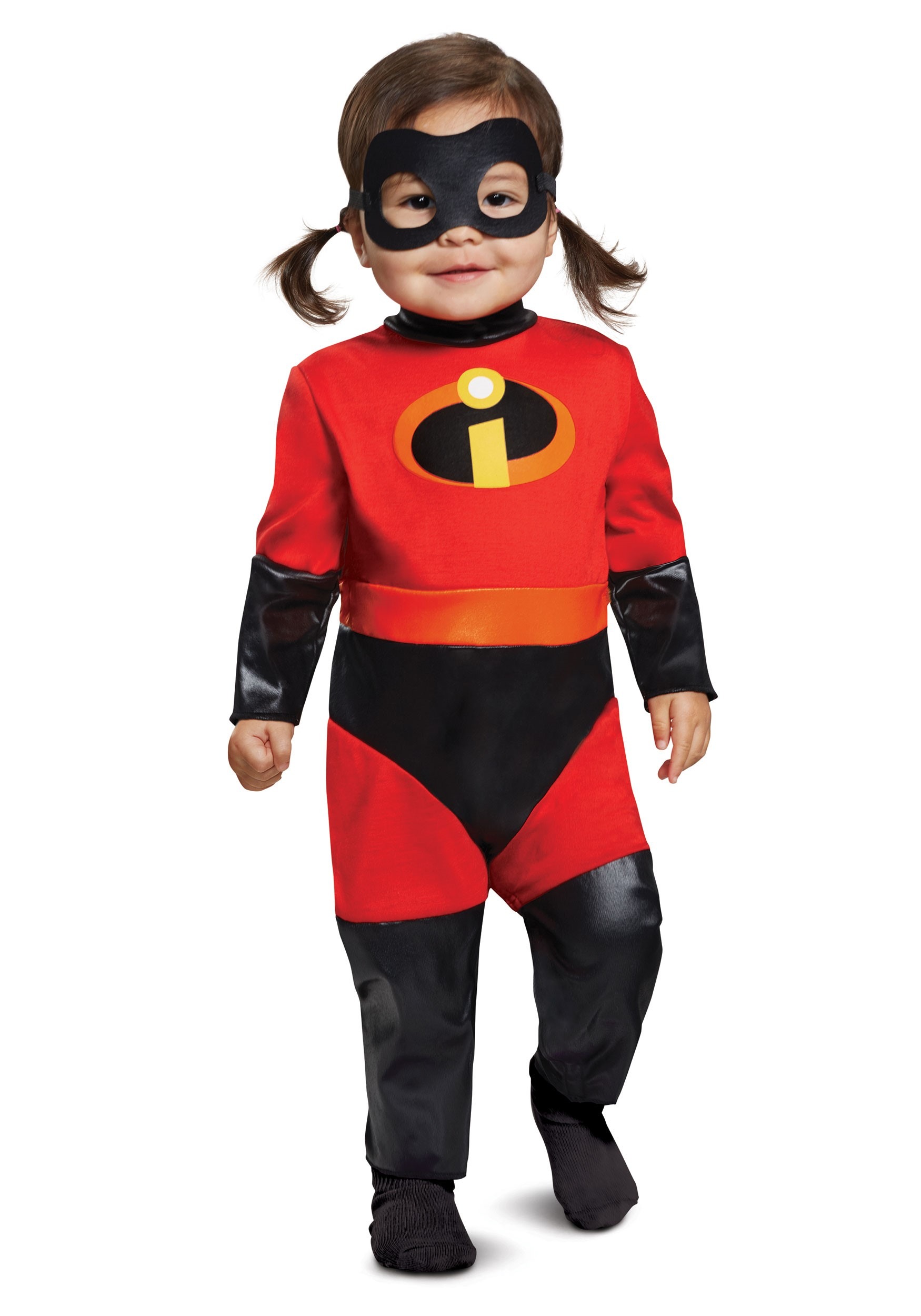 DELUXE INCREDIBLES 2 INFANT VIOLET JUMPSUIT W/ SKIRT

THIS KID'S GOT SKILLS!
It's crazy how much trouble a kid that's supposed to be a superhero can get into. Just imagine if your child could go invisible any time she wanted. Bathtime would simply have to be optional. There's no way you could get a child with invisibility talents into a bathtub against her will. Then there's the issue of snacking. You wouldn't be able to unpack groceries safely without a packet of cookies going missing. You never see those cookies again because invisible children are awesome at hiding loot. Well, maybe you're grateful you aren't raising kids with superpowers. Keeping your kid from eating mostly cookies and decently bathed is hard enough as it is. Still, maybe you can try out a new family venture. The Parr family seems to make it work, we're sure you can too!
PRODUCT DETAILS
This adorable little jumpsuit is super simple with attached black boots and gauntlets. Your child might not have invisibility skills but she'll feel sneaky when she's wearing the mask. And there's no need for her to go fight crime along. Looking through our catalog you'll find that the whole family can be incredible with a variety of licensed Incredible costume sizes!
ON GAURD
Violet doesn't have much violence in her, except when she's "having adolescence" but mostly, she's all about a peaceful solution. Her force fields are strong enough to stop the strongest weapons and a falling superjet. That's a pretty awesome way to keep the family safe if you ask us. These powers are a lot more manageable than wrangling an explosive infant, nothing against Jack-Jack or anything. And while Violet sometimes yearns to be normal, we adults know that there's simply no such thing. So this Halloween, team together and get in touch with your family superpowers as you unleash your incredible side!
FEATURES
Deluxe Incredibles 2 Infant Violet Jumpsuit with Skirt
100% polyester fabric, 100% polyurethane foam
Jumpsuit has hook & loop fastener at center back
Skirt has foam waistband, closes w/ hook & loop fastener
Skirt attaches to jumpsuit w/ hook & loop fastener dots at waistline
Eye mask has elastic band around back of head
Officially licensed