Need a costume by Halloween for your little Star Wars Fan? Disney is having a 40% off sale on costumes right now!
Your kid wants to dress up as a Star Wars character for the ultimate Cosplay day of the year… Halloween! Get a Star Wars costume now on sale at Disney. If you spend $75 or more, you can use promo code: SHIPMAGIC for FREE Shipping
PLUS!: You get one of these magical little Halloween Mickey or Minnie plush toys for only $10 with any purchase of over $14.99 (while supplies last)
So go ahead, maximize your shopping experience by taking advantage of great offers!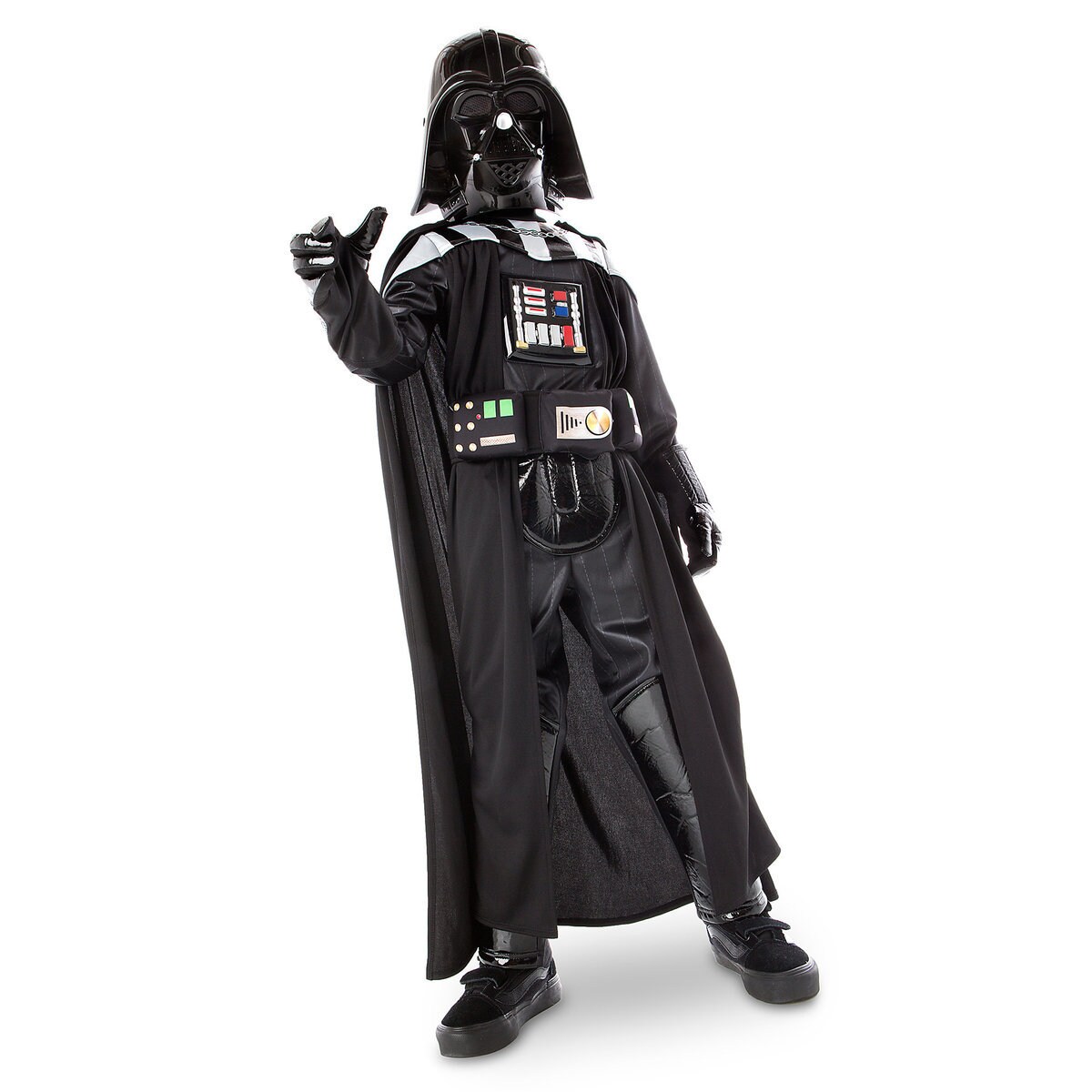 Darth Vader Costume with Sound for Kids

Get your little Sith Lord into character with this detailed Darth Vader Costume, complete with eight sound effects! Featuring a mask, bodysuit, gloves, belt, and cape, it will transform any Padawan into the Empire's most fearsome force.
Magic in the details
Includes suit, mask, gloves, belt, and detachable cape
Press button on belt to hear eight Darth Vader phrases
Bodysuit with vertical stitching and padded vinyl shin covers
Molded plastic chest panel
Padded metallic silver yoke with screen art chain detail
Self-stick fabric tabs at back for easy on and off
Gloves with shiny black fabric on topside
Hard plastic half mask with see-through mesh eyes and elastic band with self-stick fabric closure to ensure a secure fit
Belt with self-stick fabric closure and padded foam accents and screen art detailing
Detachable cape with self-stick fabric fastening
The bare necessities
Ages 3+
Requires 3 x AG13 button cell batteries, included
All man-made materials
Imported


The First Order Judicial Stormtrooper Costume for Kids – Star Wars: The Last Jedi

Fit for the First Order, your little one will suit up and be ready for galactic missions in our Star Wars: The Last Jedi Judicial Stormtrooper Costume, complete with helmet mask, suit, removable belt and gloves.
Safety
Please note: Children's sleepwear can meet safety requirements by fitting snugly and/or being flame resistant. This item is flame resistant.
Magic in the details
Includes bodysuit, helmet mask, detachable belt and removable gloves
Bodysuit with segmented vinyl covering and screen art
Black shoulder pauldrons with First Order insignia print
Hard plastic mask with black marking, see-through mesh eyes and mouth, and elastic band with self-stick fabric closure to ensure a secure fit
Detachable belt with self-stick fabric closure and features pouch with self-stick fabric flap closure
Bodysuit features back self-stick fabric opening for easy on and off
Inspired by Star Wars: The Last Jedi
The bare necessities
Ages 3+
Polyester
Imported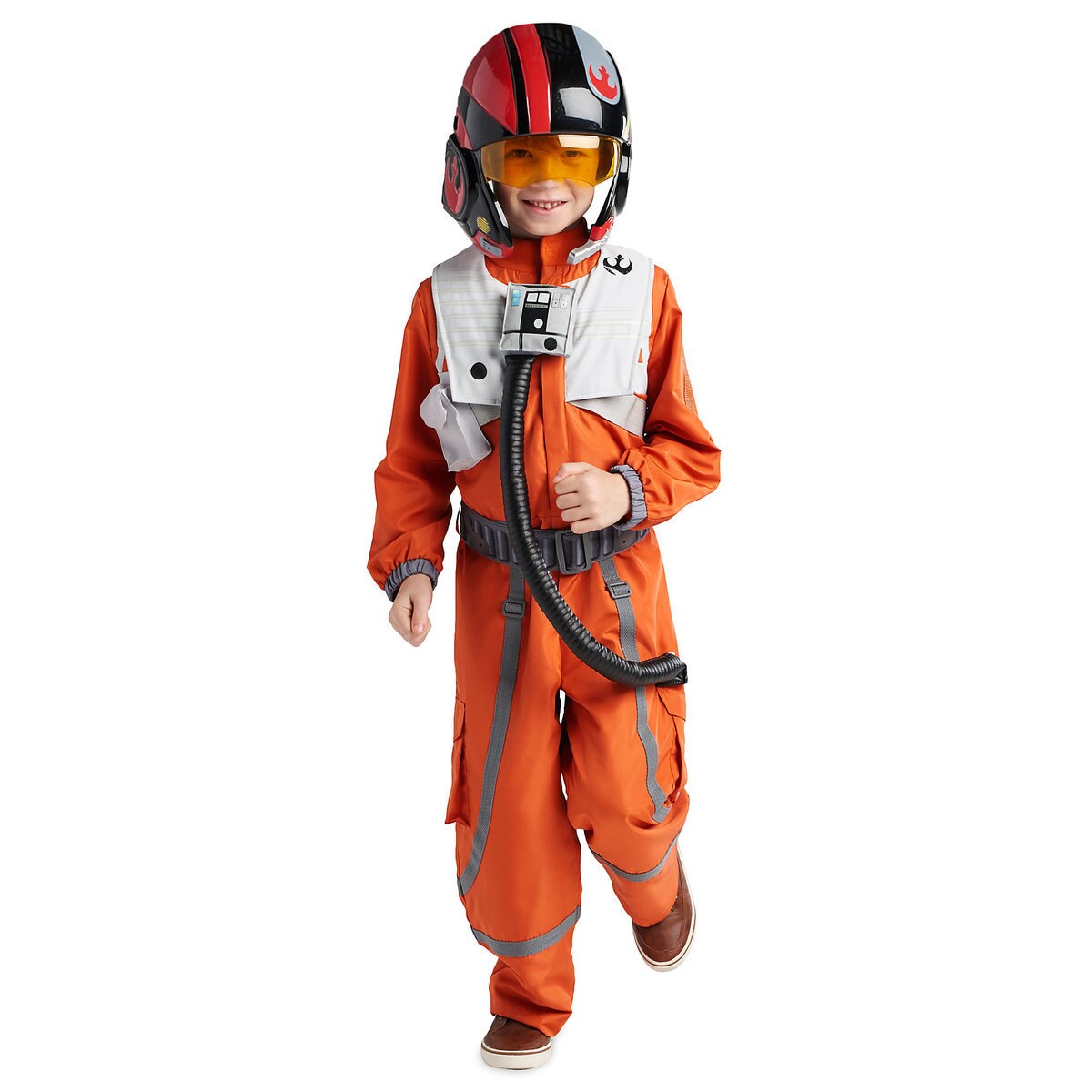 Poe Dameron Costume for Kids – Star Wars

Their imagination will take flight when they transform themselves into the Resistance's top pilot, Poe Dameron. This detailed Star Wars costume includes the one piece flight suit with attached vest and chest box, plus helmet.
Magic in the details
Costume includes one-piece flight suit, chest box with attached hose, detachable belt, and half helmet
Flight suit comes with attached vest with Alliance starbird logo, canvas straps, and fabric pocket with self-stick fabric fastener
Attached straps on legs with buckles
Flap pockets on legs with self-stick fabric fasteners
Grosgrain bands on sleeves
Contrast elastic cuffs
Ribbed collar
Front opening with self-stick fabric fasteners
Fully lined
Detachable chest box with attached hose, and self-stick fabric fasteners
Detachable belt with screen art and self-stick fabric fastener
Half helmet includes tinted visor, molded detailing, and self-stick fabric fastener
The bare necessities
All man-made materials
Imported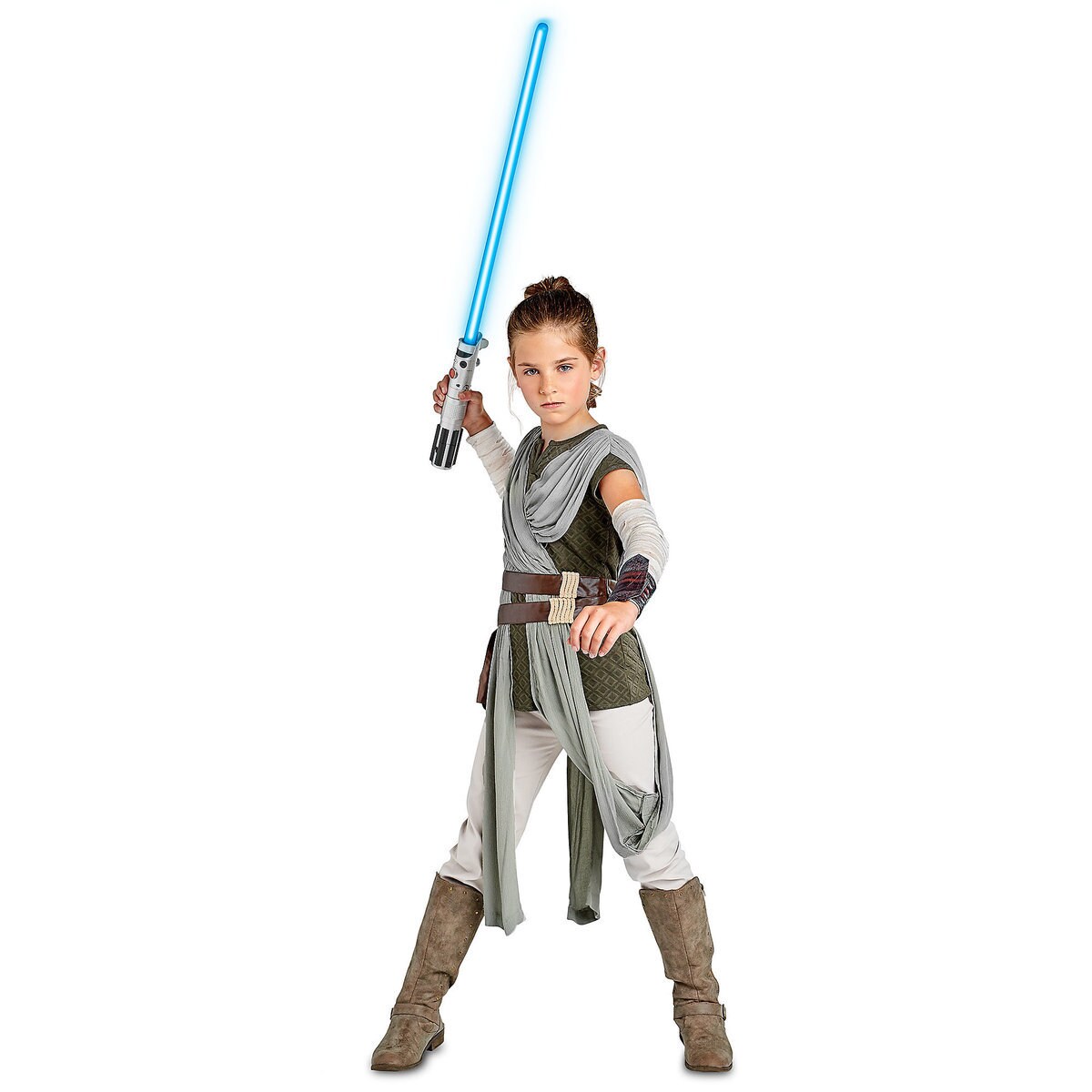 Rey Costume for Kids – Star Wars: The Last Jedi

As Rey's strength grows with the Force so will your little one's imagination in our Rey Costume. Perfect for epic adventures aboard the Millennium Falcon and beyond, our costume includes tunic, pants, attached belts and arm bands.
Safety
Please note: Children's sleepwear can meet safety requirements by fitting snugly and/or being flame resistant. This item is flame resistant.
Magic in the details
Includes tunic, pants, attached belts, removable sleeves and wristband
Diamond-textured tunic features notched V at neckline, sleeveless crinkled gauze weave "vest" overlay (can be left loose or connected with self-stick fabric closure)
Attached faux leather belts with corded "rope" accents, self-stick fabric closure straps and removable weapon holster with snap closures
Removable sleeves feature screen art and mesh details
Left sleeve has removable printed faux leather wristband with self-stick fabric closure
Coordinating elastic waist pants
Inspired by Star Wars: The Last Jedi
The bare necessities
Ages 3+
Top body: 89% polyester / 11% elastane
Sash: viscose
Base fabric and body: polyester
Imported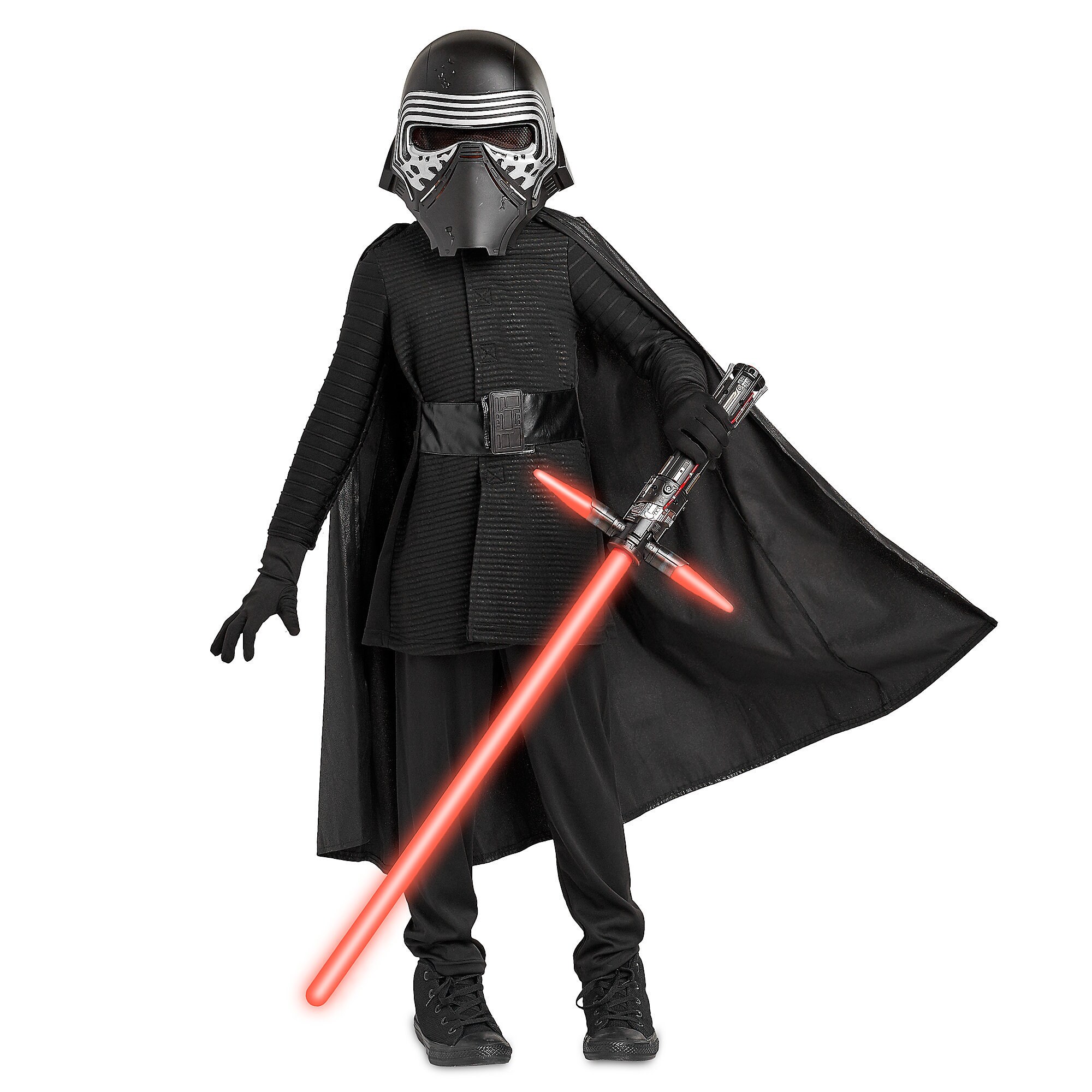 Kylo Ren Costume for Kids – Star Wars: The Last Jedi

Transform your little one into the villainous Kylo Ren and they'll rule the galaxy with our costume inspired by Star Wars: The Last Jedi, complete with dark cloak, ribbed tunic, pants, gloves and mask.
Magic in the details
Includes ankle-length cloak, mask, attached belt, gloves and pants
Hard plastic detailed mask with see-through mesh eyes and elastic band with self-stick fabric closure to ensure a secure fit
Lined removable textured cloak with self-stick fabric closures at the shoulders
Front-ribbed tunic with stand collar and front self-stick fabric closures
Attached faux leather belt features self-stick fabric closure with detailed plastic "buckle"
Long ribbed sleeves
Removable gloves
Coordinating elastic waist pants
Coordinate with Kylo Ren Lightsaber – Star Wars: The Last Jedi, sold separately
Inspired by Star Wars: The Last Jedi
The bare necessities
Ages 3+
Body: 98% polyester / 2% elastane
Back: polyester
Sleeves: 92% polyester / 8% elastane
Basic fabric: 91% polyester / 9% viscose
Coating: polyurethane
Imported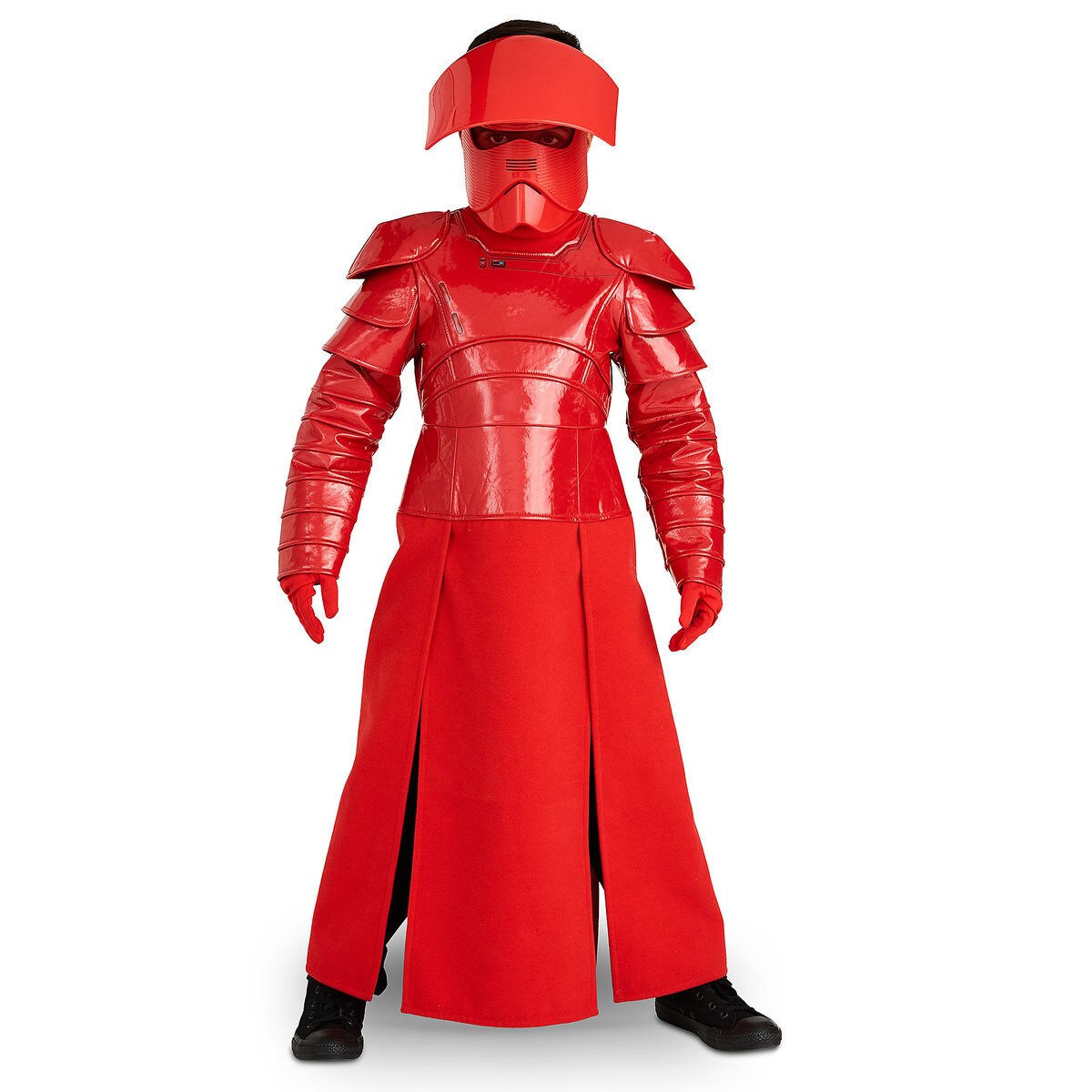 Deluxe Praetorian Guard Costume for Kids – Star Wars: The Last Jedi

Your little one will join the ranks of Supreme Leader Snoke's elite Praetorian Guard in this deluxe costume set. The epic crimson ensemble comes complete with mask, gloves, pants and top with armor-like details.
Magic in the details
Includes ankle-length top, mask, pants and gloves
Hard plastic detailed mask with see-through mesh eyes and elastic band with self-stick fabric closure to ensure a secure fit
Upper body of top features glossy, layered details at the shoulder and ribbed sleeves
Bottom features fabric and split hem
Back self-stick fabric closure on top
Coordinating pants with elastic waistband
Removable gloves
Coordinate with Elite Praetorian Guard Double Blade – Star Wars: The Last Jedi, sold separately
Inspired by Star Wars: The Last Jedi
The bare necessities
Body: polyester
Back: polyester
Lining: polyester
Lower portion: 94% polyester; 6% rayon
Gloves: polyester
Imported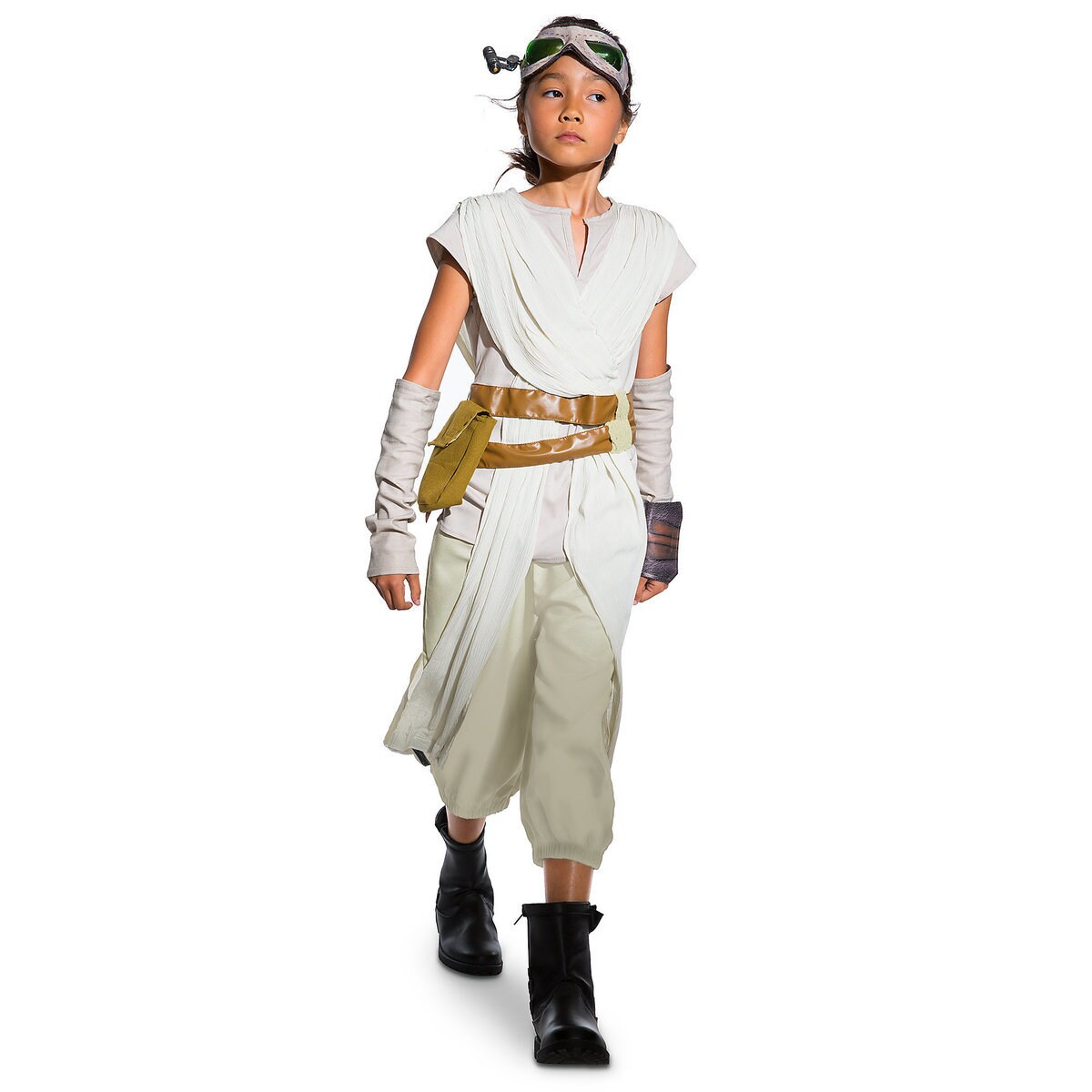 Rey Costume for Kids – Star Wars: The Force Awakens

For scavenging desert planets, making speedy escapes, and other epic adventures, our Rey Costume for Kids is the perfect fit. The tunic comes with pants, detached sleeves, boot covers and goggles.
Safety
WARNING: CHOKING HAZARD – Small Parts. Not for children under 3 years.
Magic in the details
Includes tunic, pants, goggles, attached belts and pouch, detached sleeves, and boot covers
Tunic features notched V at neck, cap sleeves, crinkled gauze weave "vest" (can be left loose or connected with self-stick fabric closure), attached belt with gussetted pouch and self-stick fabric closures
Goggles feature decorative adjustable side sight, vinyl art accents, elastic band with self-stick fabric closure to ensure a secure fit
Belts feature green felt accents and self-stick fabric closure
Side pouch has self-stick fabric closure
Detached sleeves feature screen art, left sleeve has attached vinyl wrist cover with screen art and self-stick fabric closure
The bare necessities
Ages 3+
All man-made materials
Imported