Teen Titans Costumes for Women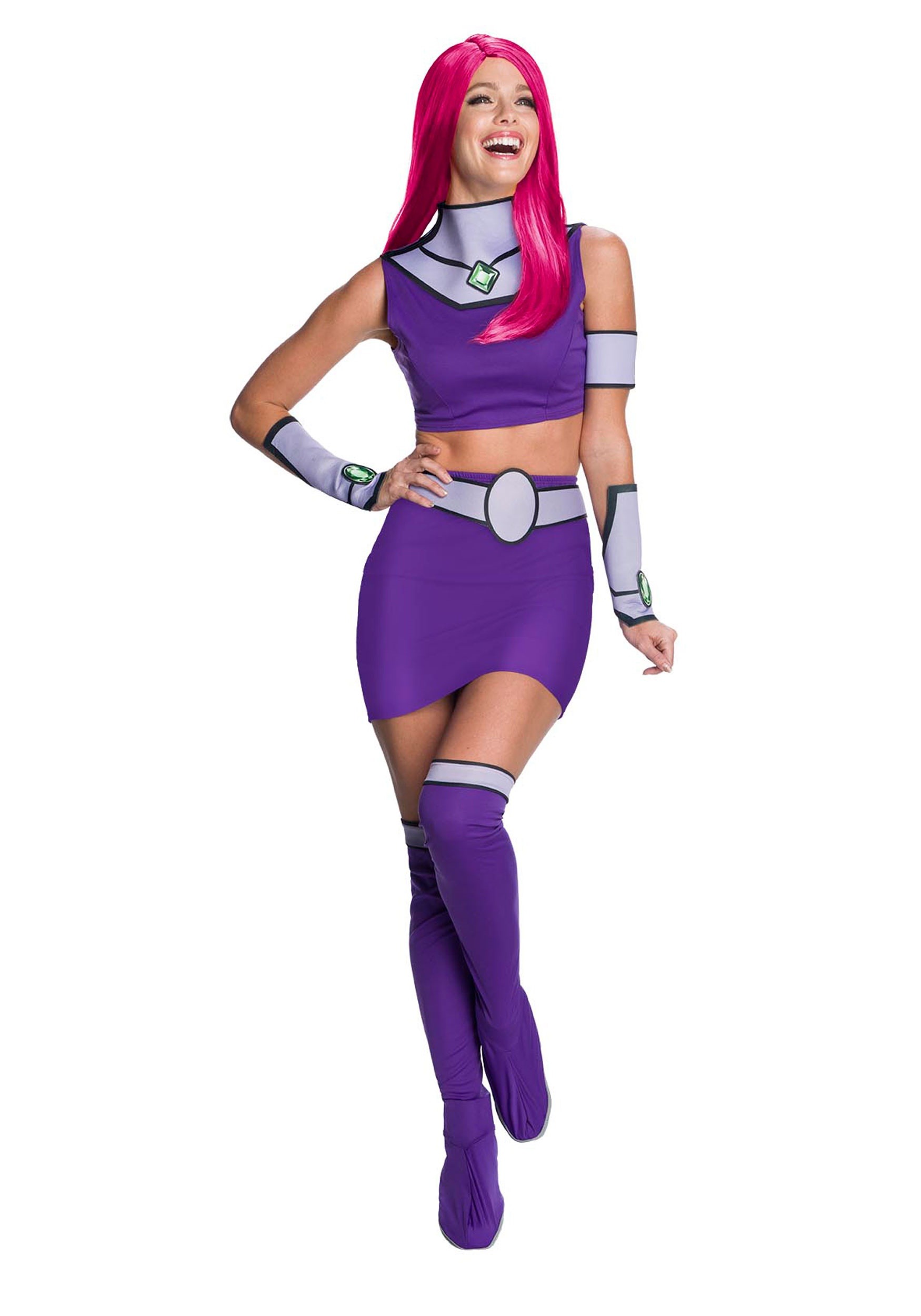 WOMEN'S TEEN TITAN STARFIRE COSTUME

SHE'S THE BEST
Starfire is objectively the best member of the Teen Titans. Why? Good question. Let's just run through all of the reasons that make her the number one Titan of them all.
First of all, she has an extensive list of superpowers. She can fly at supersonic speeds, she can learn an entire language just by making physical contact with someone who knows the language, and she's the strongest member of the team (despite what Cyborg might try to claim). She has a kind heart, even if most of her Tamaranian acts of kindness go unappreciated by the other Titans. She's also obviously the most stylish out of the team—just look at her purple outfit compared to everyone else's getup! Robin looks a little like a Chrismas Elf most of the time. Raven needs a lesson in color coordinating (you don't have to wear black ALL the tie). And Beast Boy needs an update. He looks like he stepped out of the 1950s. Starfire's sleek look is definitely much more modern.
PRODUCT DETAILS
Well, now you can become the best, and best dressed, member of the time when you wear this women's Teen Titan Starfire costume. The costume recreates the look from the cartoon series and comes with a top, a skirt, along with plenty of other accessories to complete the look. The top has a bright purple color and has her green necklace printed along the top. The skirt is a matching purple color. A pair of arm gauntlets, an armband, and boot covers round out the look and will have you ready to assume the role of Starfire!
JOIN THE TEAM
When you dress as Starfire, you'll be ready to hit the Tower to hang out with the rest of the crew! Just remember that you need to fill Silkie's food dish before you head out to fight against the forces of evil.
SIZE CHART
SMLXL
Chest 34″
Top Length 13″
Skirt Waist 24″ – 30″
Skirt Length 18″
INCHES
CENTIMETERS
COSTUME SIZING TIPS
100% polyester fabric, 100% polyurethane foam
Sleeveless midriff top has hook & loop fastener at back of neck
Top has foam yoke w/ printed gem necklace
Slim skirt has elastic waistband, attached foam belt
Foam arm band & gauntlets close w/ hook & loop fastener
Gauntlets have printed gem bracelets
Fabric boot tops have elastic bands under foot
Officially licensed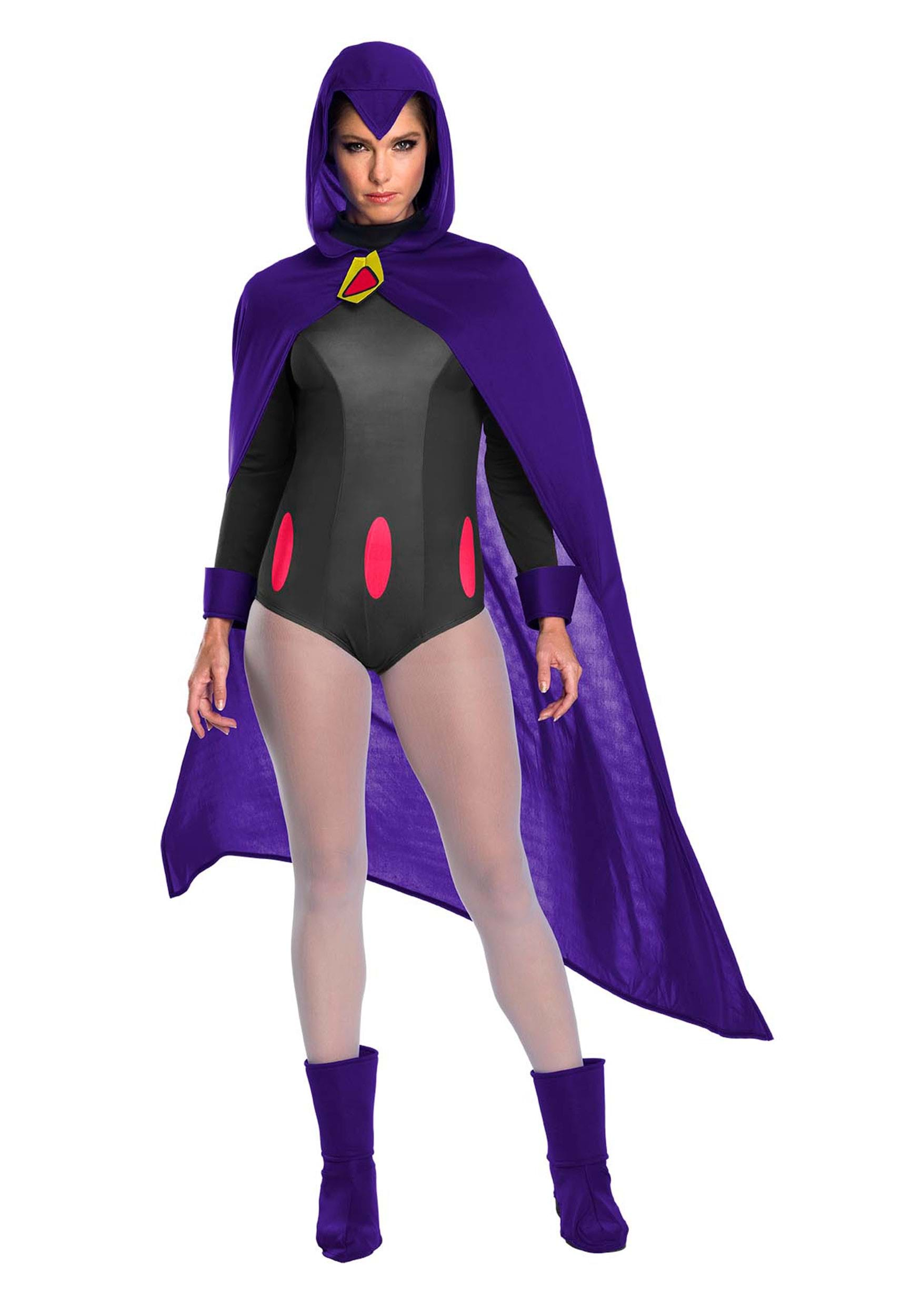 TEEN TITANS RAVEN WOMENS COSTUME

ME TIME
We get Raven. She's a Teen Titan not like the rest. People might call her grumpy. They might call her too introverted. But sometimes, a girl just needs a little bit of "me" time. She's got a lot of stuff to deal with. Her dad is an inter-dimensional demon bent on world domination. Her powers also go nuts if she ever lets her temper take control of her. Sometimes demon eyes appear on her forehead…
Do you know what doesn't help her deal with those sorts of problems? Beast Boy shouting in her ear about tofu. Or Cyborg playing loud video games all afternoon. Or Starfire blathering on about one of the many incomprehensible traditions from Tamaran. Or Robin and his constant need to train with Birdarangs every hour of the day. All that would be enough to drive any girl crazy! So, we get it. Rave, if you need to spend some time meditating to keep your calm, then go right ahead. If you want to skip a night out to read your book, you go ahead and do you girl!
PRODUCT DETAILS
Do you get Raven? Then maybe it's time for you to assume the role of your favorite Teen Titan with this women's Raven costume! This costume is officially licensed from the animated series and it comes with a black, long-sleeved bodysuit with red accents around the waist. It also comes with the dark purple cape with hood. After all, you can't be Raven without her signature hood! Finally, the purple boot covers help you put the finishing touch on your Teen Tian cosplay outfit.
AZARATH METRION ZINTHOS
With this Raven costume on, you might start feeling like a real superhero! Just remember that it takes years of training to learn some of the magic techniques that Raven uses, so don't go starting a fight with Slade until you've spent some time mastering your chants. Azarath Metrion Zinthos!
Jumpsuit has hook and loop fastener at the back
Jumpsuit has elastic band around both legs
Cape has hook and loop fastener on the front
Cape has an attached hood
Boot covers have elastic band under foot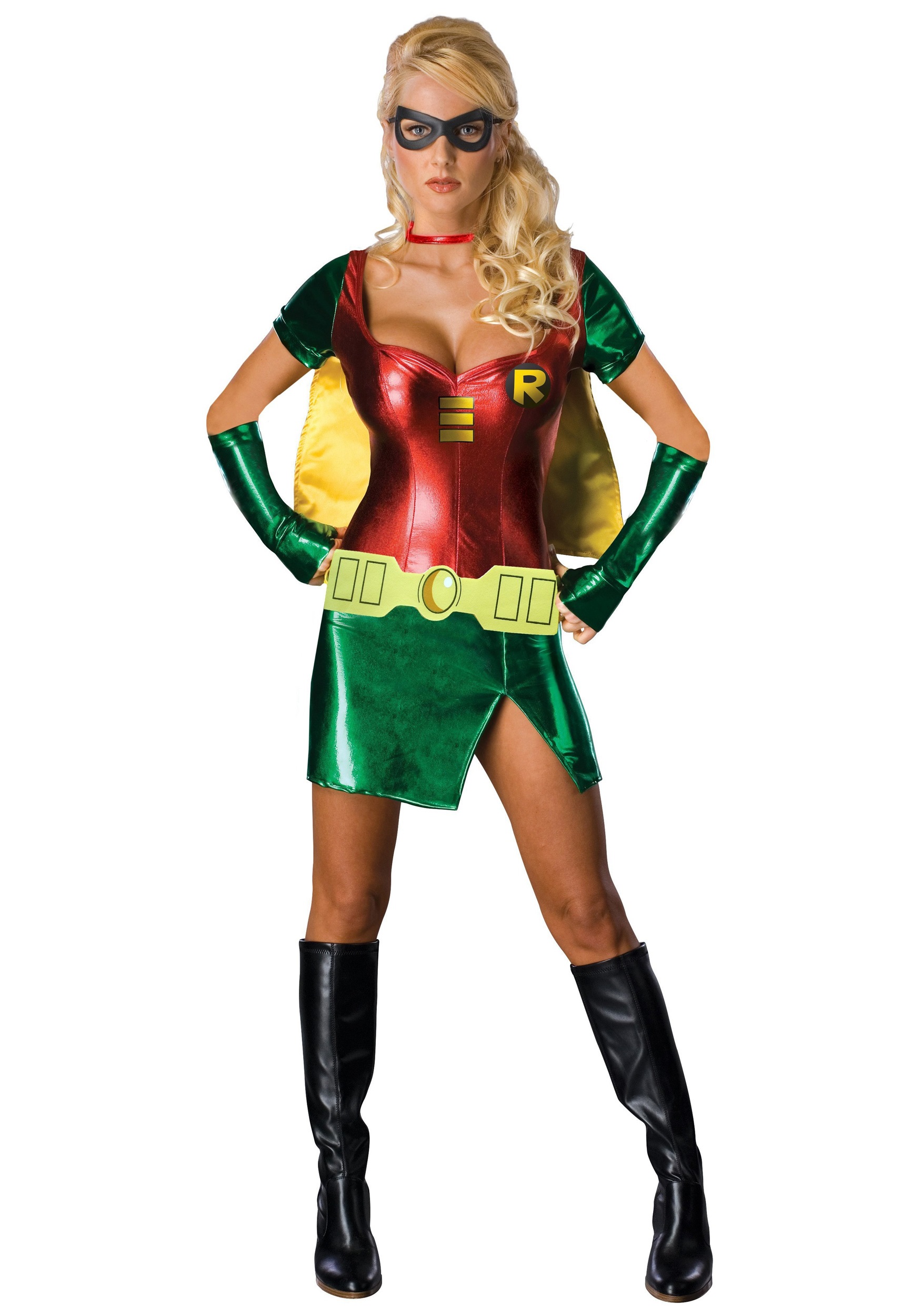 ROBIN GIRL SEXY COSTUME

You know what we're sick of? Sexy Batman. Why is it, every time there's an opportunity to dress up as one's favorite superhero we always get stuck with hundreds and hundreds of sexy Batmen (Batmans?)? It's ridiculous, to be quite frank with you. Sure, Batman has the chiseled physique and chiseled chin and everything else is chiseled too, but come on! Batman should be focusing on driving that dangerous vehicle of his not his… actually you know what? Let's focus on the point at hand. We've had enough of this sexy, charming Batman character. Bruce Wayne is a billionaire. Can't he go buy a different sexy costume instead of Batman for once? He keeps stealing all the thunder!
But what is a poor sidekick to do? Lowly Robin, sure a great acrobat and crimefighter in his own right, but how can Robin hope to match Batman's sexy appeal? With Robin's own sexy appeal, that's how! Yes, enough sidekick stuff. Now you can dress as Robin and be sexy at the same time, and isn't that what you've always wanted? Of course, it is.
This costume includes a metallic low cut red and green dress. Criminals won't know what to do when they see you're after them. They'll stop and stare, of course, and they'll know you're official because of your yellow cape and green gauntlets. They might even let you hand them over to Commissioner Gordon. You might want to wear a pair of shorts underneath to keep your high kicks modest, this skirt is pretty short. You've worked hard, you deserve some attention too! So step out from the sidekick shadows, sexy Robin. It's your time!
90% polyester, 10% spandex
Officially licensed
Short red dress w/ low cut top
Short yellow cape
Elbow length gloves
Black eye mask w/ elastic band
Foam utility belt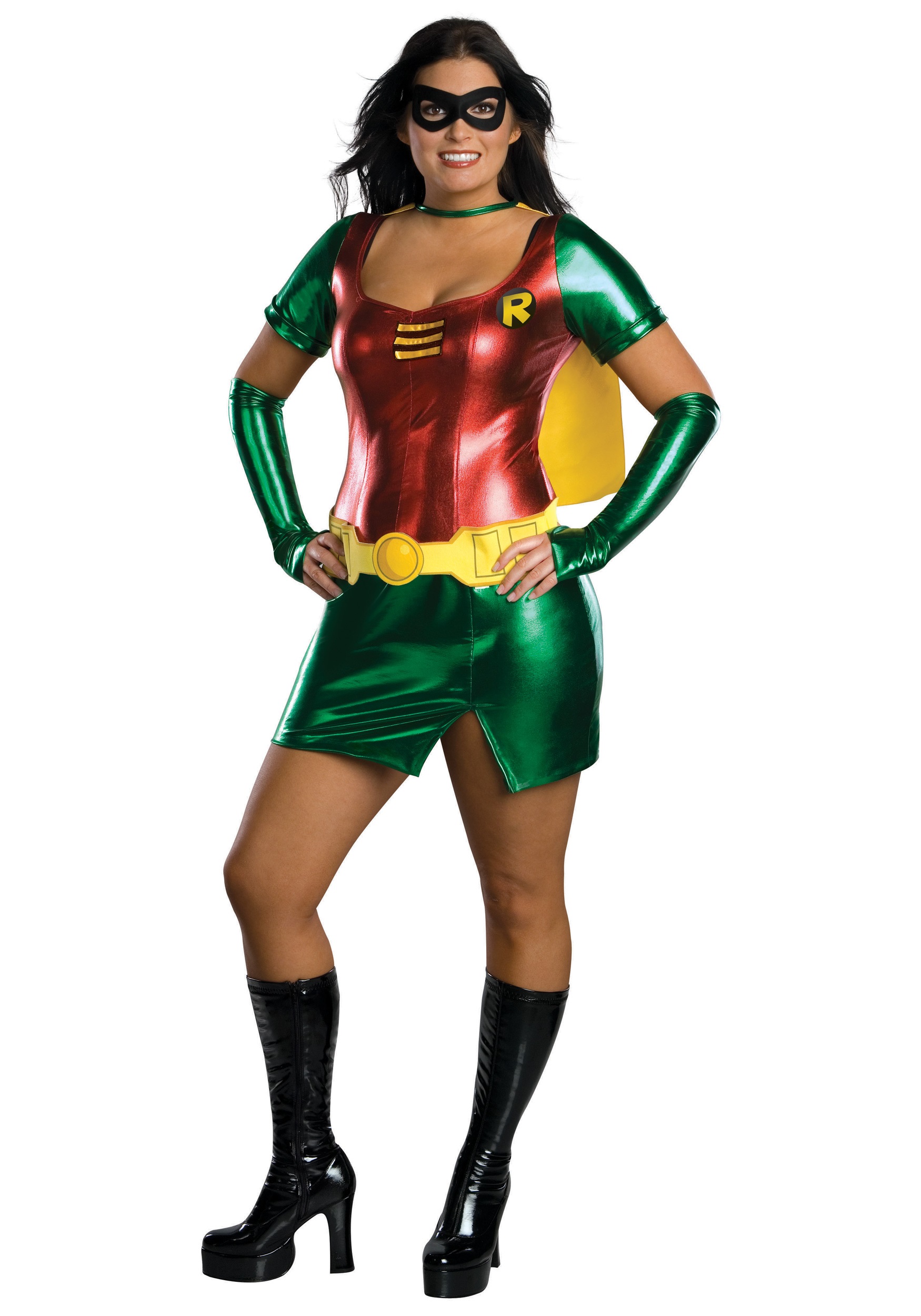 PLUS SIZE ROBIN GIRL COSTUME

They're like the superhero version of peanut butter and jelly. Bacon and eggs. Peas in a pod. It's Batman and Robin.
Let's get real for a second here. Sure, Batman is the crusader of the night. Sure he can single-handedly take down crime bosses, smuggling rings, and psychotic bad guys. He's that good. He's amazingly smart, plus all those fancy tech toys (and the billions of dollars don't hurt either). He's a powerhouse for justice.
But just because Batman can take down all the baddies all alone doesn't mean he should. There's plenty of times the bat could use an extra hand, an extra pair of eyes, or at least someone there to lighten the mood. Enter Robin.
Robin has been many names over the years. Dick Grayson. Jason Todd. Timothy Drake. Stephanie Brown. Usually young and a little impetuous, Robin is a symbol just as much as Batman is. A symbol of someone feisty and a bit more fun. He's a symbol of justice just as much as Batman is.
So if you're the type of hero that maybe needs a few more years of training. Or if you're quick and agile with a healthy serving of sass, you very well might be our next Robin. If so, you'll need the threads. Our Plus Size Robin costume is just what you need. It's shiny in Robin's signature green, yellow, and red, with a yellow cape and green wrist warmers. It even includes the mask, utility belt, and Robin patch attached. Sure, the Bat symbol may be shining, but where we come from? That means Batman and Robin.
90% Polyester 10% Spandex
Shiny dress with red torso and green skirt and sleeves
And "R" patch on the chest along with yellow lace details
100% yellow polyester cape
Green elbow length arm-warmers
Yellow rubber utility belt that ties in back
Black mask with an elastic band
Teen Titans Costumes for Men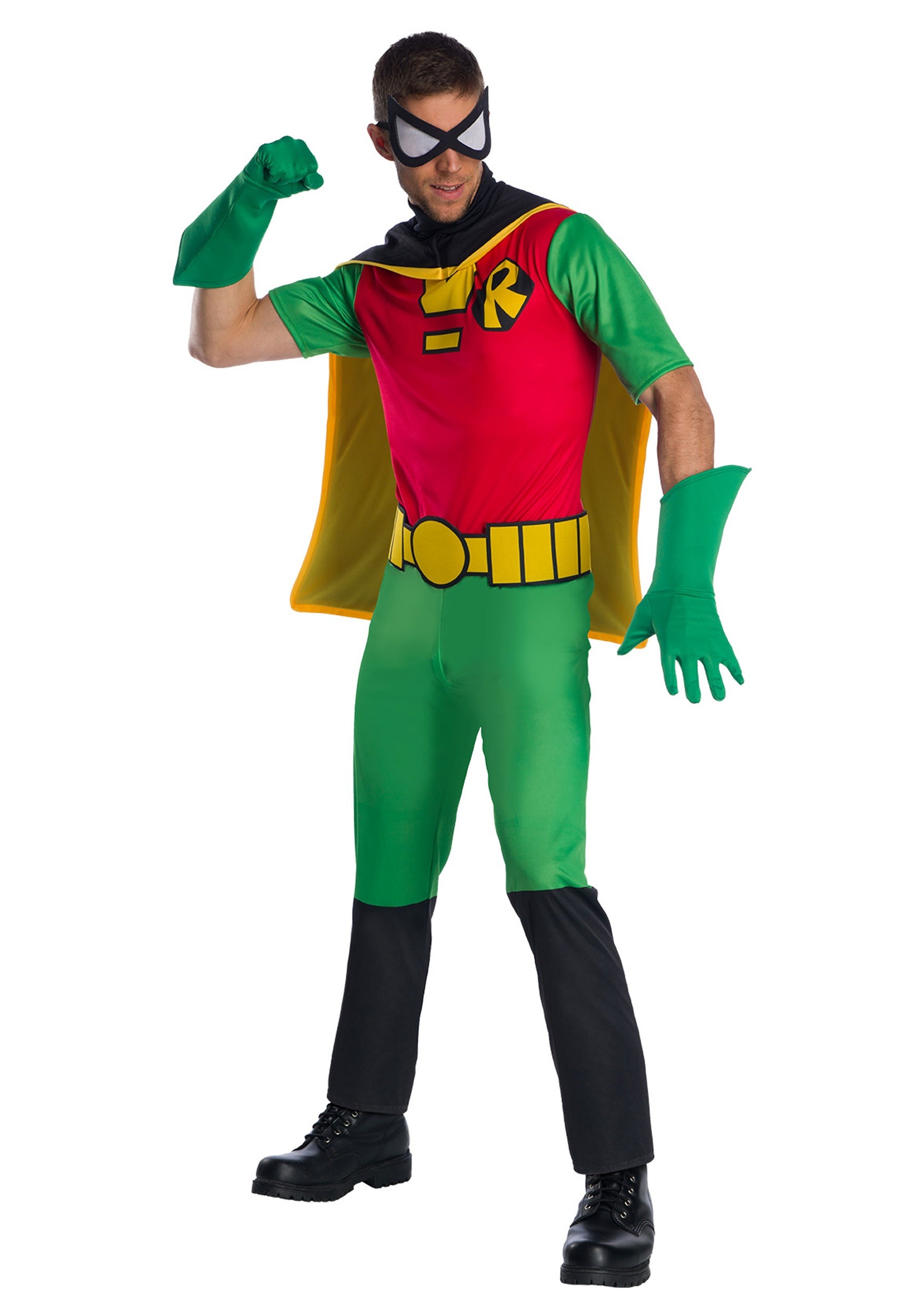 TEEN TITANS ROBIN MEN'S COSTUME

LEADING THE CHARGE
Being the leader is a tough job. You definitely have a lot of work cut out for you if you plan on stepping into the role of Robin from the Teen Titans. He's in charge of the whole operation, which means keeping the rest of the Titans in line when it's time to fight the bad guys. That means he needs to keep Beast Boy on task, even when it's video game night. He also needs to make sure Starfire understands Earth's ways, since most of the time she has no clue what's going on. He also needs to make sure that Raven doesn't just lock herself up in her room all day, as she's been known to do. That's a tall order to fill, but we think you can handle it!
It's time to prepare yourself! Break out the bo-staff. Brush up on your martial arts skills. Make sure to do a bit of manager training, because you're about to step into the role of the leader of the Teen Titans with this Robin costume!
PRODUCT DETAILS
Officially licensed from the DC show, this Teen Titans Robin costume comes with everything you need (aside from years of training with Batman) to become a superhero. The costume comes with a full-body jumpsuit designed to look like the one seen in cartoon series. It comes with a faux utility belt around the waist, a printed "R" on the front, and a cape. The mask will help you protect your secret identity and the gloves add the finishing touch to the costume.
CHILL WITH BATMAN
Don't go thinking that you can fight Slade when you dress up in this costume unless you've been honing your karate skills like a champ! This Teen Titan costume will have you feeling like a hero, but it's no substitute for some training with Batman. Maybe you could give him a ring for an impromptu crime fighting lesson!
100% polyester
hook and loop fasteners on the back of jumpsuit
Belt has tie closure
Mask has elastic strap and mesh over the eyes
Cape has a hook and loop closure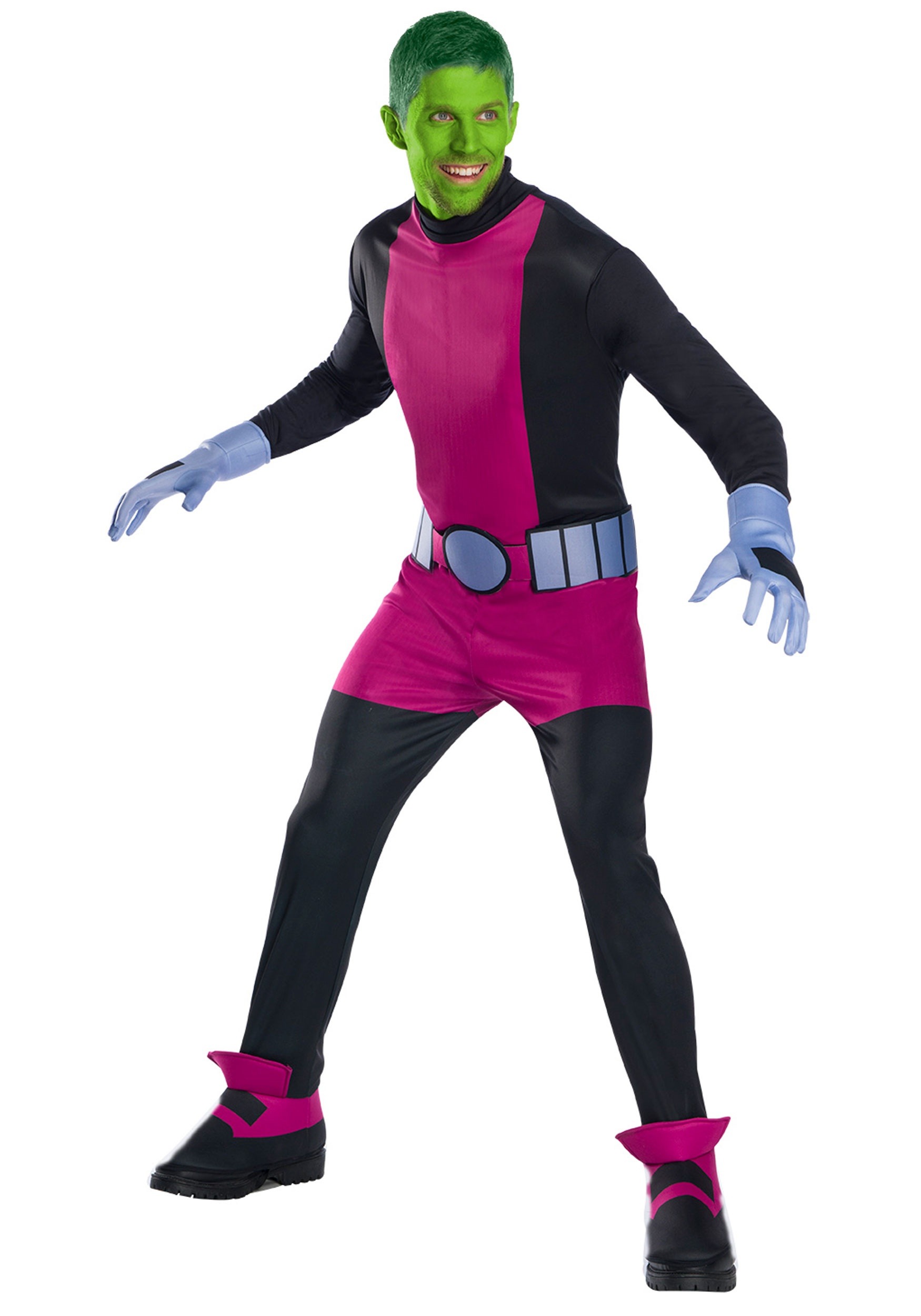 MEN'S TEEN TITAN BEAST BOY COSTUME

MENAGERIE OR MAN?
Have you ever imagined what it would be like to be Beast Boy? We think it would be pretty great! You could have the speed of a cheetah, with the strength of a gorilla. You could have the wings of a hawk, along with the quills of a prickly porcupine. You could even use your powers to transform into the ultra-powerful platypus! We're not really sure if transforming into a platypus is all that useful for crime-fighting, but you have to admit that it seems like a pretty awesome skill to have in your back pocket!
You would also get to hang out with all of the other Teen Titans too! You could chill on the couch and play your favorite video games. You could have a hot dog eating contest with Cyborg (only tofu dogs for your, of course). You could tease Raven until you she smacks you around with her telekinesis powers and you could even help Starfire take Silkie for a walk (do moth larvae even takes walks?). Well, if being Beast Boy sounds like a pretty good deal, then maybe it's time that you gave it a try by wearing this officially licensed Teen Titans costume for adults.
PRODUCT DETAILS
This Beast Boy costume turns you into the superhero from the legendary Teen Titans series. It comes with a black jumpsuit that has the bright magenta front panel. It has a foam belt and a pair of attached boot covers. Pair that up with the gloves and you get a look that comes straight from the cartoon series.
PLATYPUS TIME?
While you might not actually be able to transform into a platypus, this costume will help you feel like a real Teen Titan. Who knows, you might even be able to sneak your way into the Titan Tower when you're wearing this costume.
100% polyester fabric, 100% polyurethane foam
Jumpsuit has hook & loop fastener strips at center back
Attached foam boot covers have elastic band under foot
Printed foam belt has fabric waist ties
Gloves have wide foam cuffs
Officially licensed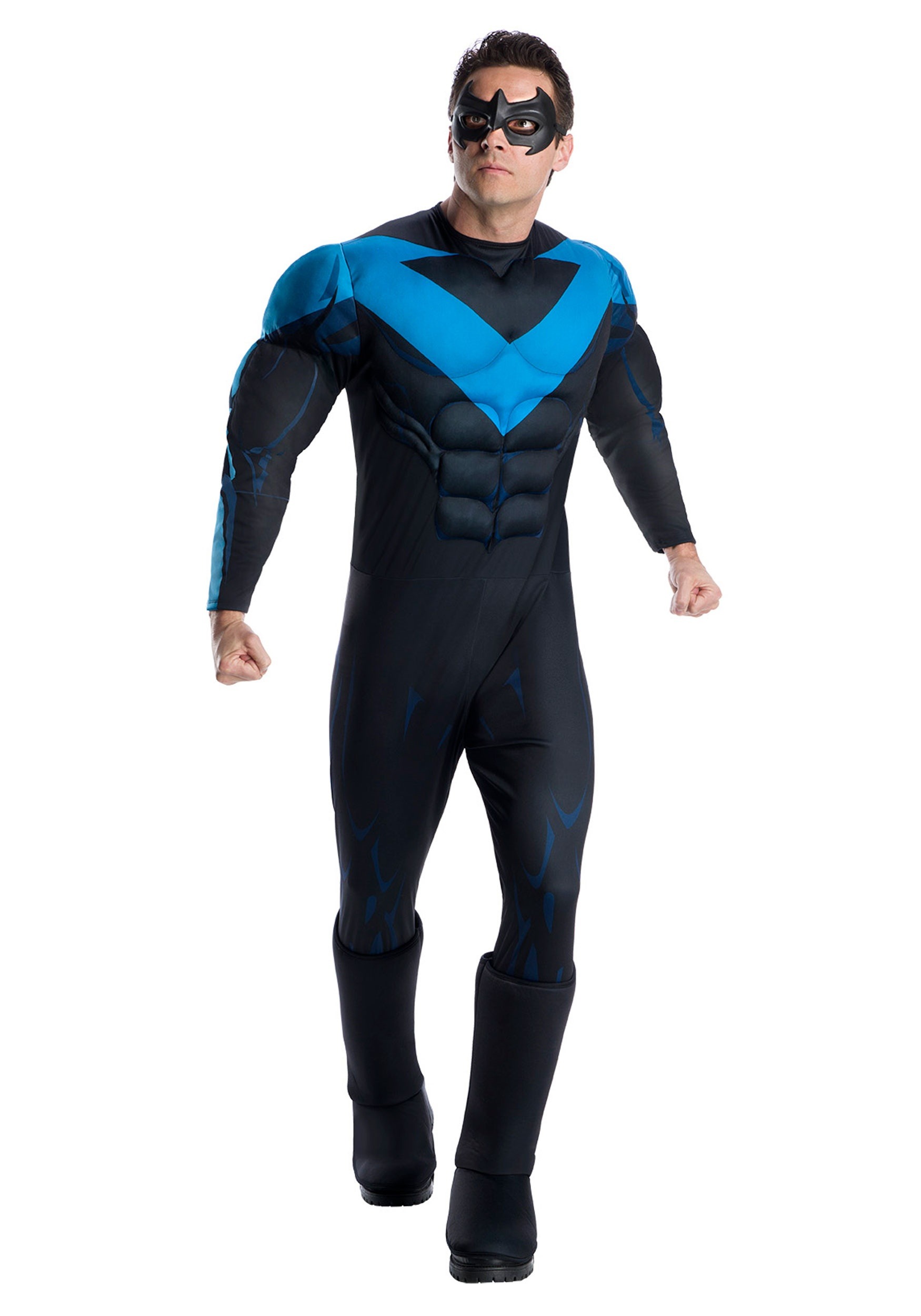 DELUXE NIGHTWING MEN'S COSTUME

ONE MAN WOLF PACK
It must be hard. He worked his entire life to bring criminals and villains to justice, but he always got labeled as just a sidekick. The "Boy Wonder" they'd call him, even as a full-grown man! There goes Robin, Batman's young ward. Well, eventually a guy just has to strike out on his own. He needs to step out of Batman's shadow and do things his way. Besides, Bruce Wayne's no-nonsense style has got to get old after a few years of being his partner! That's how Nightwing was born! Free from his old moniker of Robin, he could now follow his own superhero path. He can be… a one-man wolfpack.
Now, it's time for you to step out of the shadows as well. You can strike out on your own as a superhero who no longer needs Batman's help. You too can hold the mantle of Nightwing! You just need this officially licensed DC costume.
PRODUCT DETAILS
Based on Dick Grayson's appearances in the comic books, this Nightwing costume is a deluxe outfit that's designed to make you look like the hero of Bludhaven. It comes with a black jumpsuit that has a blue "V" design on the chest. It also features a sculpted muscle chest in front and muscle padding in the sleeves to help give you a muscular appearance. It also has blue muscle contouring on the sleeves and the legs to create an almost comic book-like appearance. Finally, the mask helps you hide your secret identity from your foes! It's a classic black mask and fits on your face with elastic.
SOLO HERO WORK
When you head out in this iconic costume, you'll feel like the solo hero that you are! Of course, you may want to take some acrobatic lessons and some advanced martial arts lessons before you start picking any fights with Deathstroke.
Teen Titans Costumes for Kids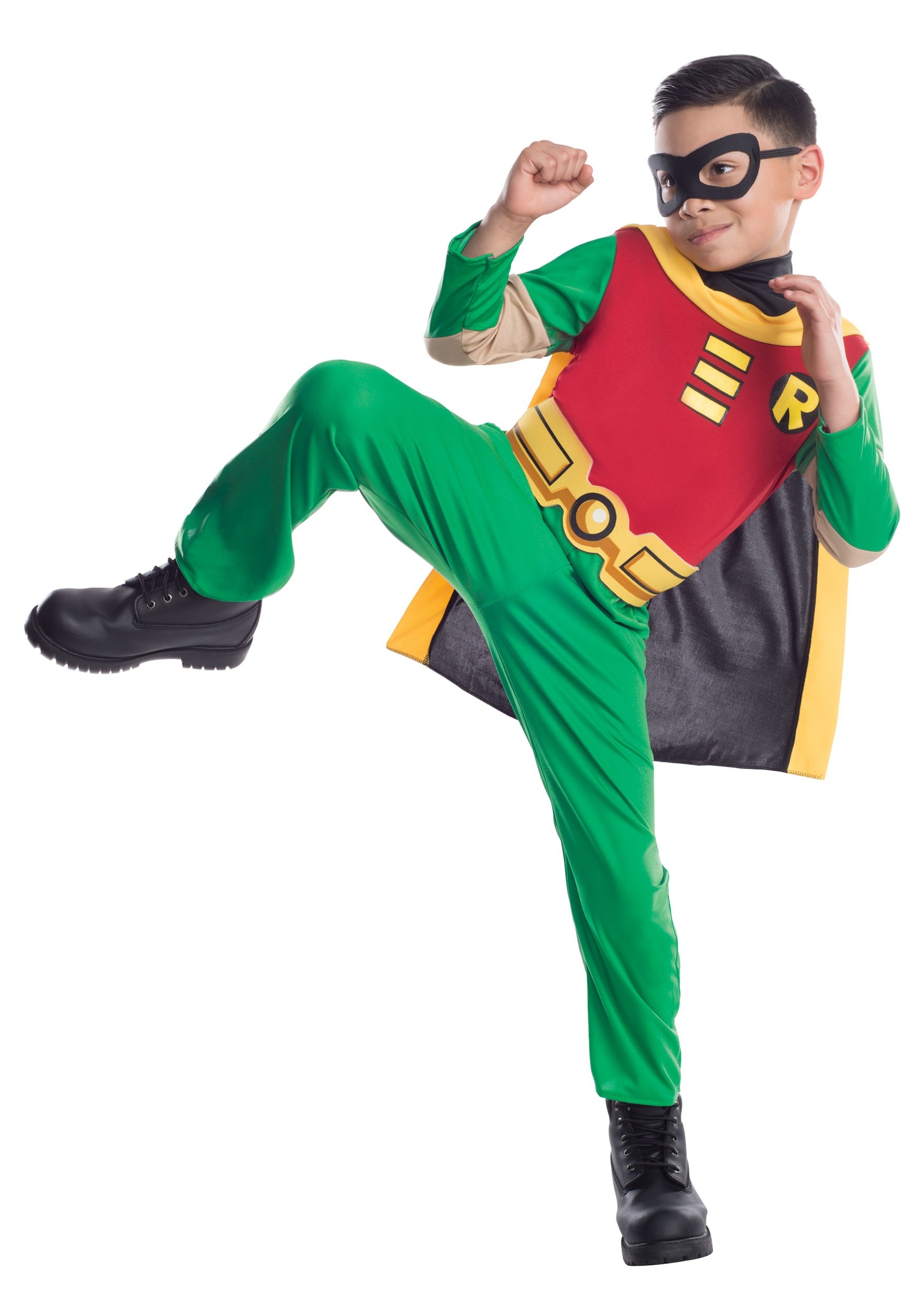 TEEN TITANS BOYS ROBIN COSTUME

At first thought, you might think that regular teens and superhero teens really don't have much in common. Most normal teenage kids spend their days dealing with homework, making it to class on time and trying to figure out what to say to their crush. Robin? He's a superhero kid that spends his days fighting crime, trading blows with Slade, unraveling Brother Blood's latest scheme and trying to figure out what to say to his crush, Starfire. Hey, all teens share some things in common, even teens that also happen to be superheroes! Now, your child can share something else in common: the superhero outfit.
With this licensed Teen Titans Robin costume, your kid can join the ranks of superhero teens, who never have to worry about homework. Instead, your kid will be battling it out with Slade! The costume comes with a bright red top and green bottoms which combine to recreate Robin's costume from the iconic cartoon series. Robin's "R" symbol appears on the chest of the costume. It also has plenty of yellow accents for a heroic style that would make Batman proud. Of course, it comes with a black and yellow cape like the one he wears in the cartoon for a complete look.
Once your child has all the pieces on, he'll look ready to command his own team of Teen Titans. Whether he's giving orders to Beast Boy, Raven, Cyborg and Starfire, or he's just leading his group of friends on the next mission, he'll certainly look the part.
100% polyester fabric, 100% polyurethane foam
Jumpsuit has hook & loop fastener at center back
Printed "R" on front
Cape has hook & loop fastener at neck
Foam belt has fabric waist ties
Foam eye mask has elastic band
Officially licensed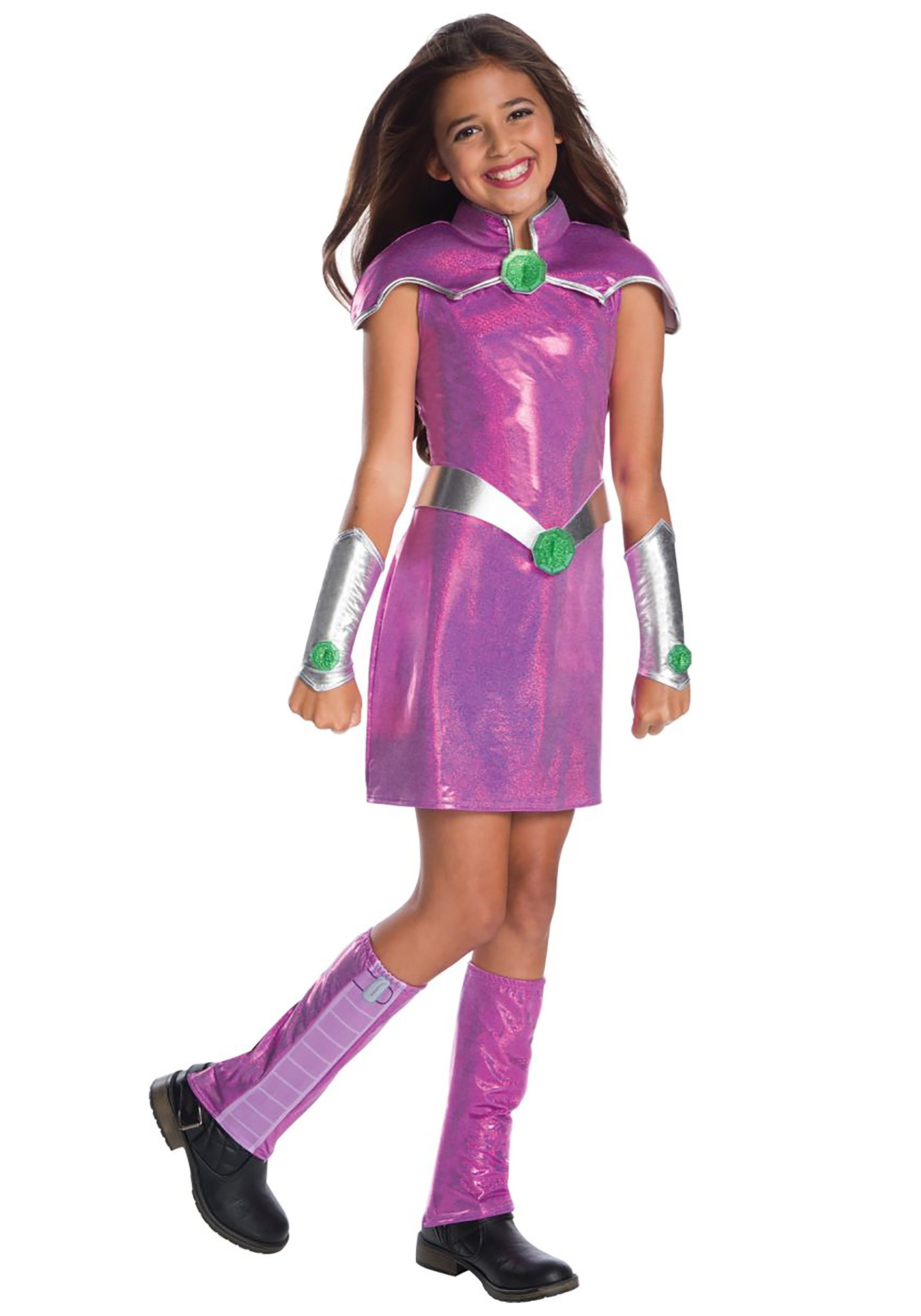 GIRLS DC SUPERHERO GIRLS DELUXE STARFIRE COSTUME

This is a DC Superhero Girls Deluxe Starfire Girls Costume.
Girls DC Superhero Girls Deluxe Starfire Costume
Dress is shiny metallic
Belt is adjustable and fastens with hook and loop
Cape attaches to jumpsuit with hook & loop fastener strips at shoulders
Officially licensed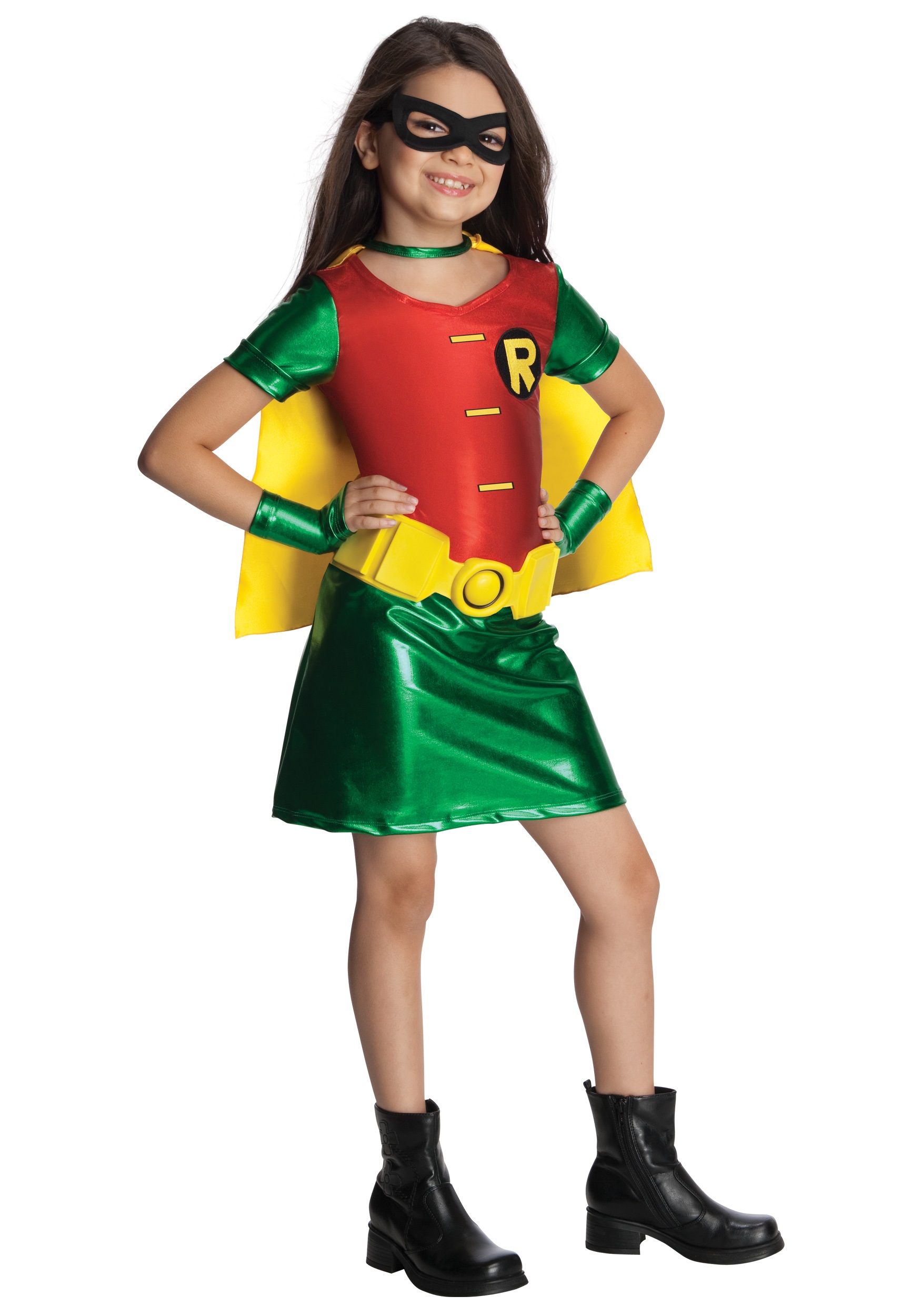 GIRLS TITANS ROBIN COSTUME

The world has gotten pretty rough for anyone trying to enjoy a nice day after school, especially when one considers what occurs in some darkened cities. Dozens of villains are always breaking out of their secured jails and running amok, none of them giving a moment's care about the education they are disrupting! Not every place is as bad as Gotham, thankfully, but there are a few places that we're sure glad to have a local team of youngsters ready to help out the local officials. The police do all they can, but we all know there isn't much a chance that they're going to keep things in order. Thus, the city always looks up to the night sky and cries out for their heroes…
Fortunately, we have the Teen Titans. Housed in Titans Tower just off the coast of California, this group of supposed sidekicks prove that they can do a ton on their own and even more as a team. Their leader, Robin, brought up from a young age as an amazing acrobat developed some serious skills and those tricks transferred perfectly to free-running and flipping over obstacles while assisting the Caped Crusader in his two-on-twenty fights with the notorious archvillains and Robin brought those talents right along to help the Titans!
You've raised your child right, which means that that kiddo is ready to do whatever it takes to help out any local buddies! Fortunately, we've got the gear you need in this Teen Titan's Go! Robin costume. This superhero red and green dress shows off Robin's iconic color scheme and comes with the very same yellow satin cape. Metallic green gauntlets protect your tyke from any incoming attack and the black Robin eye mask protects your kiddo's identity, all while the molded rubber utility belt provides an array of gadgets. Wicked-doer beware, because this Titan is on the task!
100% Polyester
Superhero sidekick red and green dress
Yellow satin cape attaches to the back of the dress
Metallic green glovelets
Molded rubber yellow utility belt
Black Robin eye mask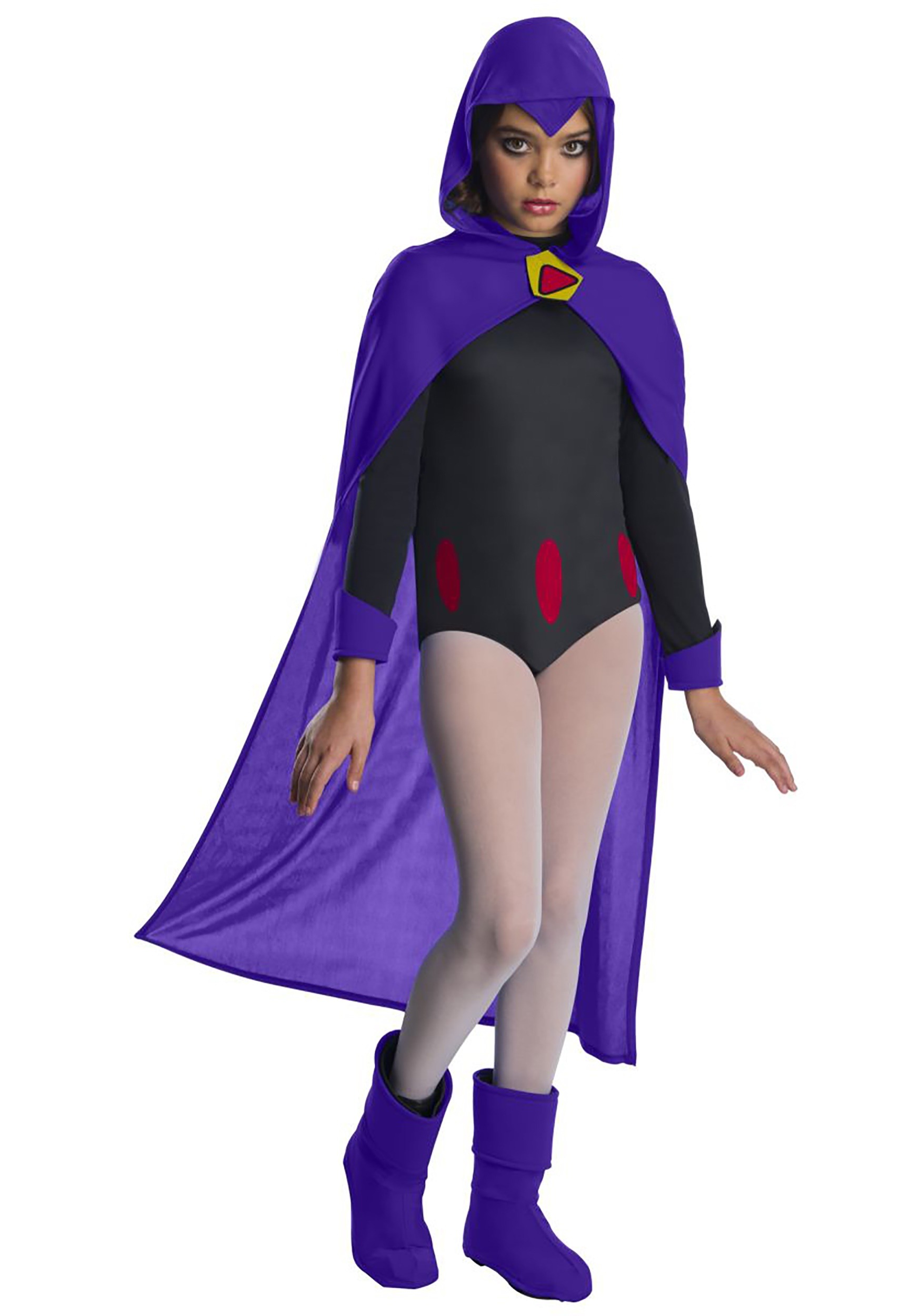 TEEN TITANS RAVEN COSTUME FOR KIDS

This is a Teen Titans Raven Child Costume.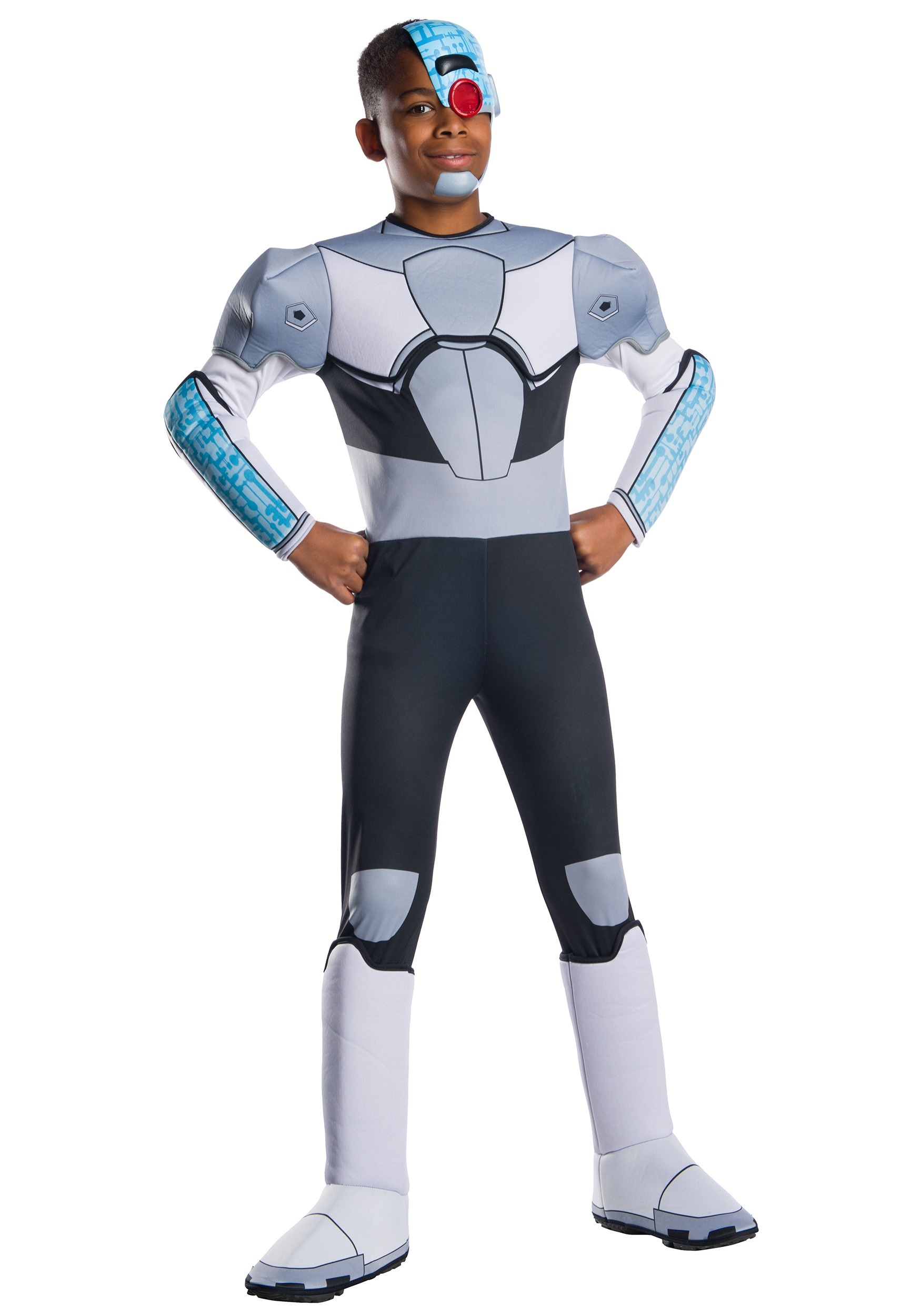 TEEN TITANS CYBORG CHILD'S COSTUME

This is a Teen Titans Cyborg Child's Costume.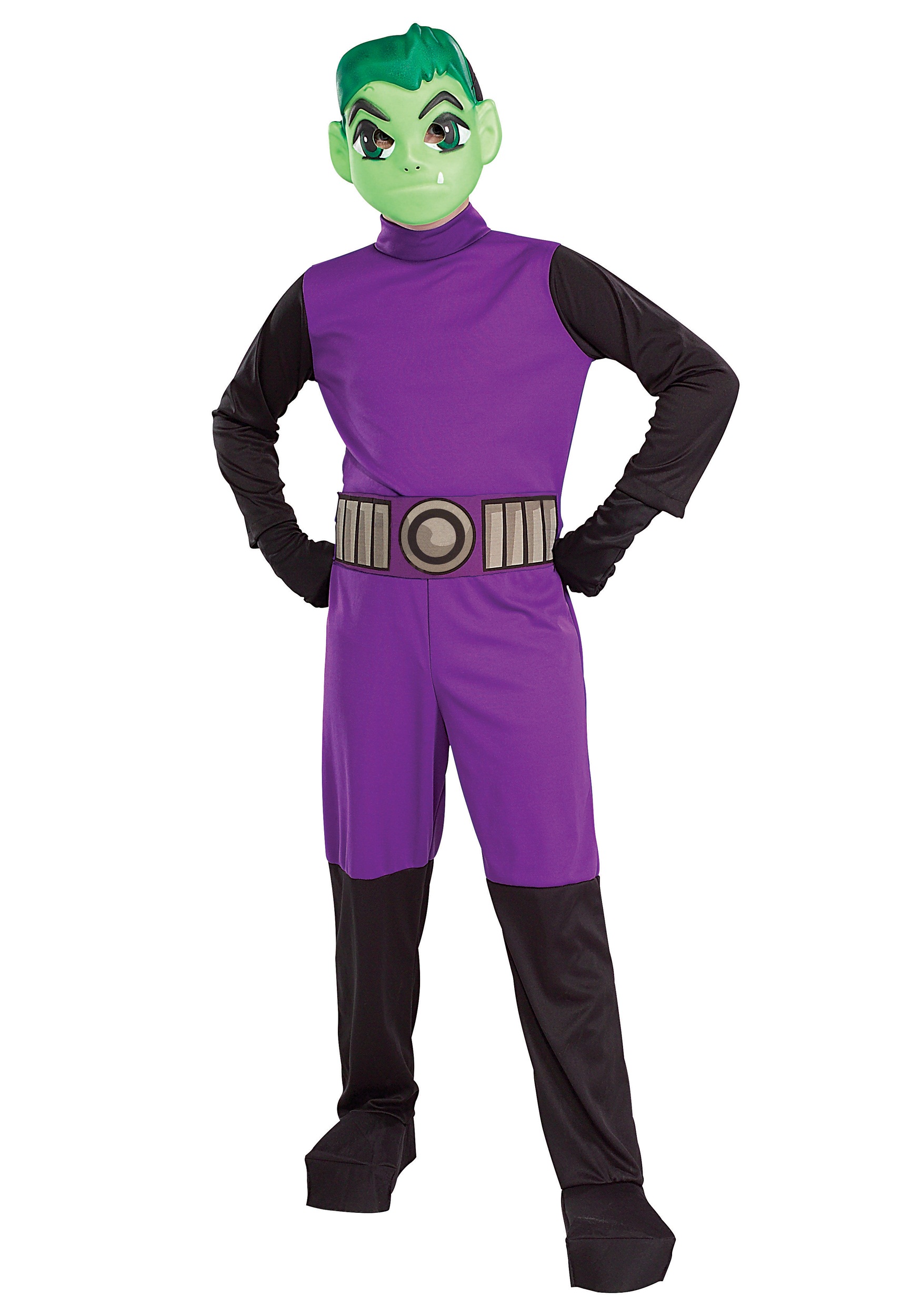 TEEN TITANS BEAST BOY COSTUME

You know when you have to answer those quizzes or hypothetical questions about which animal you would be? The ones that post you all sorts of weird questions about your favorite color or where you'd like to go on vacation? Then they want to know your favorite number and if you'd prefer to have a window, aisle, or window seat? Somehow they calculate all of those factors together and, probably based on whether or not you chose an ocean side or desert location or the number four over the number eight, the quiz comes back to let you know that you want to be a walrus? A walrus? Because I like water and the number four: walrus.
It is limiting and offensive. Who are you to say that we want to be a walrus, quiz? There are so many options out there, countless animal lives that are all unique and wonderful in their own way! How can anyone pick a single animal to be when we live on an Earth with over 8 million estimated species… and that doesn't even include the alien creatures that live below the sea or above the stars! Fortunately, there is one guy who never ever has to make that limited decision. Or, rather, he has to make that decision every few minutes, but can choose anything he wants each time! Beast Boy!
And now you, too, can be spared those unfair limitations when you step into the bright purple pants of the Teen Titan's own shapeshifting ball of chaos with this Teen Titan's Beast Boy costume. The purple jumpsuit has black sleeves and boot covers as well as an iconic utility belt for your wasit. The soft mask of Beast Boy's delightfully green grinning face wraps over your head and will have everyone seeing you feeling warm with joy. Shapeshifting powers aren't included, sadly, but you never know what might develop!
100% polyester
Purple jumpsuit w/ black sleeves & attached boot covers
Belt attaches around waist w/ Veclro
Soft mask has elastic band that wraps around head
Officially licensed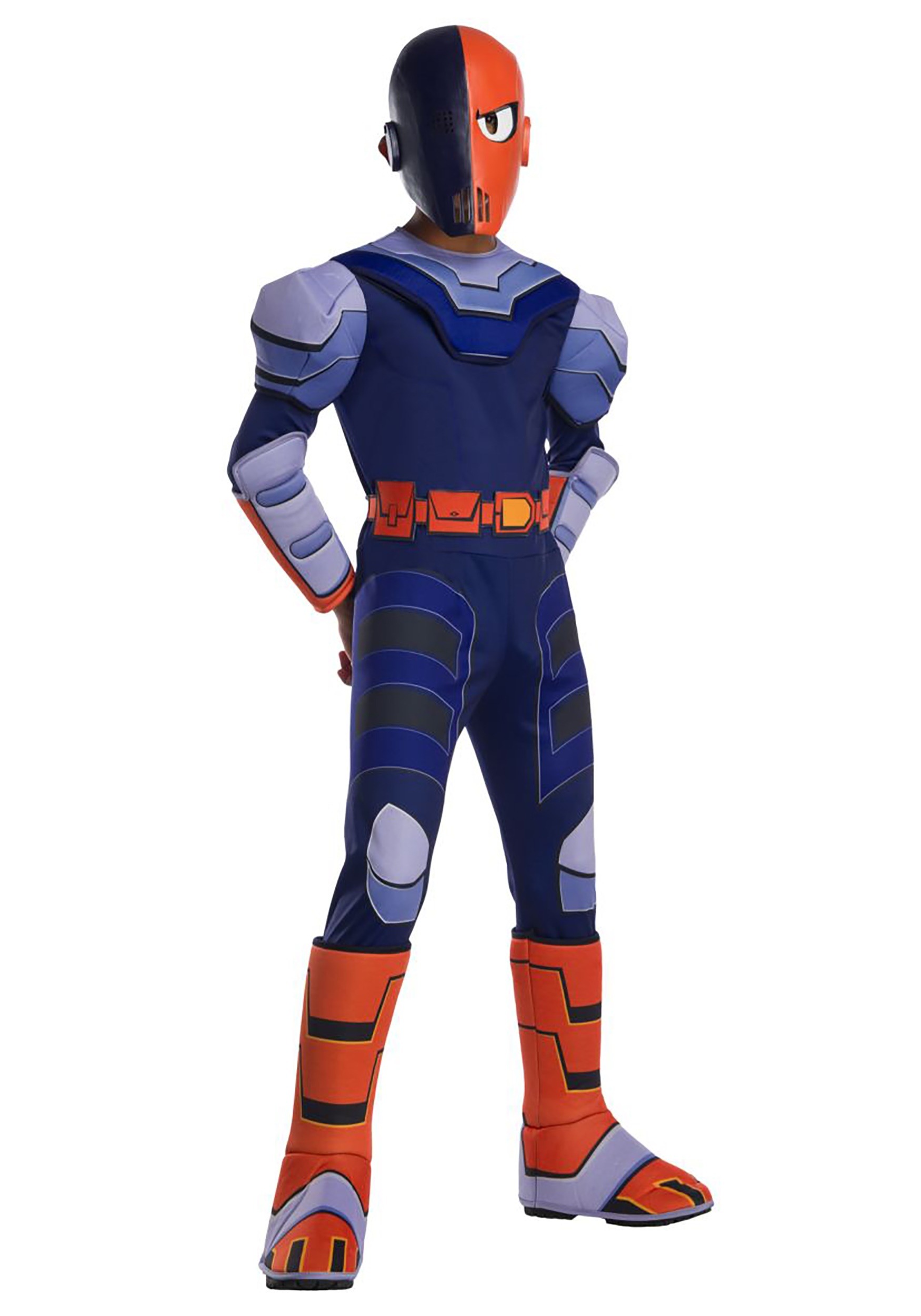 TEEN TITANS SLADE COSTUME FOR KIDS

This is a Teen Titans Slade Child Costume.


BATMAN: ROBIN KIGURUMI SUIT

Could you imagine being a sidekick? It's basically being an unpaid intern for a superhero. You do all the hard work, you fight on the front line between chaos and order, then you don't get paid and you can forget about getting any of the glory.
Although it may not be the superhero's fault, more than likely the media is to blame but still being a sidekick hardly seem like it's worth it. Why do you think Robin started the Teen Titans? But still, he is loyal to the superhero that took him in under his wing. And Batman, being more so a nocturnal vigilante rather than a daylight guardian, is constantly paging Robin during the late hours of the night. Also, in case you weren't aware there aren't any set hours when your job is protecting Gotham, you just kinda get called in when destruction is afoot. That being said, it was always a struggle, having to wake up in the middle of the night and throw on a spandex uniform, for poor Robin so he had Alfred revamp his Boy Wonder outfit.
Are they pajamas? Is this a uniform fit for a super sidekick? Could it be…both? Well, to put it simply, yes. Now when Batman calls in the middle of the night with a mission, all Robin has to do is get up and go because he's already dressed. Batman may not be the biggest fan of Robin's new look but we suspect it's because he's a little jealous.
100% Polyester
Kigurumi zips up in the front
Modeled after Robin's superhero costume
Attached yellow cape in back
Thumb holes on cuff sleeves